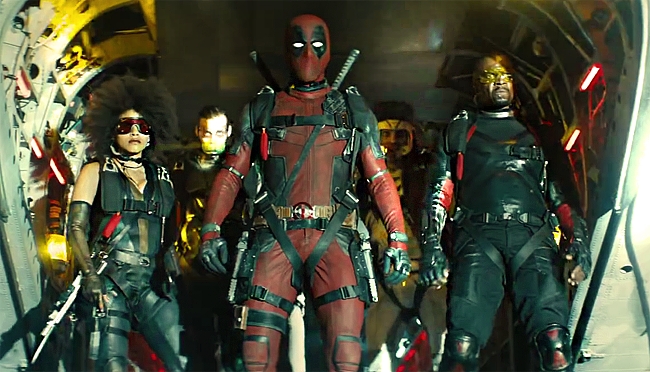 The new trailer for Deadpool 2 prompted a lot of questions about the three characters seen standing with Deadpool and Domino in the scene pictured above. We already know, thanks to Colossus actor Stefan Kapičić, that the actor on the far right is Terry Crews, and the character seen between Crews and Deadpool is Shatterstar, a mutant who channels sonic frequencies through his blades. Now some social media activity by actors may have revealed the identity of the remaining two unknown actors in the scene.
The actor on the second from the left, between Deadpool and Domino, is now rumored to be this handsome fellow: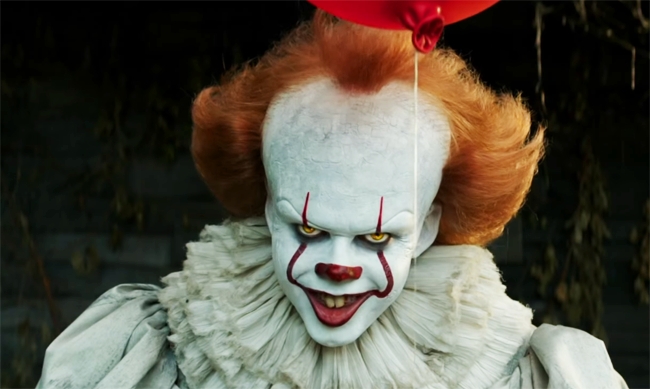 That would be Bill Skarsgård, who played Pennywise in the It remake. Maybe a picture without the makeup would be less terrifying:
Welp, that's only slightly less terrifying.
Skarsgård previously worked with Deadpool 2 director David Leitch in Atomic Blonde, and another actor from that movie (Eddie Marsan) was cast in Deadpool 2. The rumor of Skarsgård's casting was given more credence when Karan Soni — who plays Dopinder in both Deadpool movies — liked this tweet:
Soni later un-liked the tweet, but not before Omega Underground screencapped it. We still don't know which character the actor is portraying, but our guess is Chamber, whereas some people have been guessing Zeitgeist, a mutant whose power is spitting acid (which wouldn't look nearly as cool on screen as Chamber's powers).
We may also know who plays Shatterstar. Actor and amateur Muay-Thai boxer Lewis Tan has been liking an awful lot of Deadpool-related tweets since the trailer came out:
We'll probably find out if these guys really are in the movie as more trailers are released before Deadpool 2 opens May 18th. In the meantime, the film is apparently reshooting something. Cable actor Josh Brolin posted about getting in shape for the reshoots. The post itself wasn't much, but we appreciate some of his hashtags, like "#RyanReynoldsUsesCGIforHisAbs" and "#FirstDayOffMeth."
(Via Omega Underground, /film, Screen Rant, and Josh Brolin)