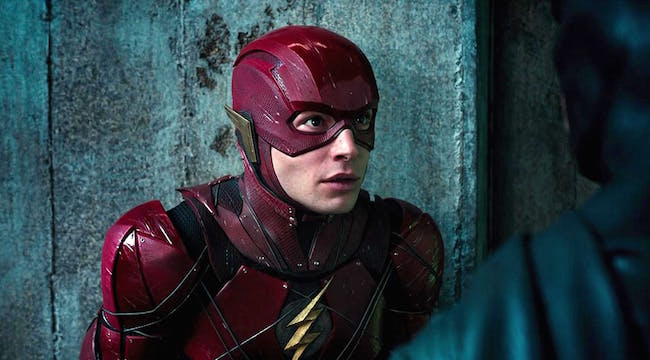 The DC favorite the Flash runs at record speeds, but it looks like his stand-alone movie will be slow to arrive. In yet another stumble for the DCEU, the film — in which Ezra Miller will reprise the role he's played in three DC films, most prominently in last year's underperforming Justice League — has had its production date pushed back. Thing it, it's not entirely DC's fault.
According to Variety, DC decided to retool the script. That's forced them to delay a shoot that was to have started in March of next year. Problem is, Miller is also tied up in another Warner Bros. product: the Harry Potter-related Fantastic Beasts series, in which he plays eerily pale "Obscurial" Credence Barebone.
Its second episode, which co-stars the now-embattled Johnny Depp, will arrive next month. But the third in the franchise is slated to begin shooting in July, meaning their Flash star will already be tied up. The Flash will also not appear in the forthcoming Aquaman. And so what will likely happen is this: Miller will film the as-yet-untitled third Fantastic Beasts film, grow out his creepy bowl-cut hairdo, and begin shooting the as-yet-untitled Flash movie in late 2019 — i.e., in almost a year.

This is another hurdle for the DCEU, and for the Flash movie. This superhero entry has never been formally greenlit, but it has already gone through a series of directors. Rick Famuyiwa (Dope) left the production in 2016 over creative differences. He was replaced by John Francis Daley and Jonathan Goldstein, the team who wrote Spider-Man: Homecoming and directed this year's hit comedy Game Night, plus the reboot of Vacation.
Incidentally, Daly, as you may be reminded every time his name comes up, as a kid played lovably awkward Sam Weir on Freaks and Geeks, long before he became a hot Hollywood screenwriter and a comedy director with an atypically strong visual sense.
Now with this further delay, who knows what's up? Perhaps the Flash movie won't even ever be made. If it is, it's likely to be out before the year 2021. Till then, fans will have to subsist on the popular TV show, or dig up copies of the one that aired for one season in the early '90s. Ezra Miller fans, meanwhile, can always check out his impressive work as a teenage psycho in We Need to Talk About Kevin and as a far nicer high school outcast who shamefully doesn't know David Bowie recorded "Heroes" in The Perks of Being a Wallflower.
(Via Variety)