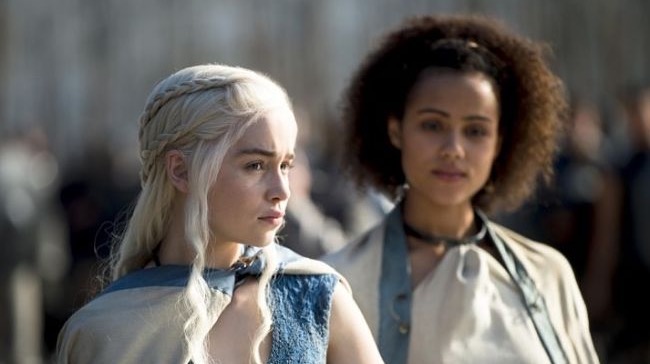 The Game of Thrones cast still can't say anything specific about season eight (or else HBO will Jurassic Park themselves a dragon to fire-breathe the leaker to death), so with months to go until the premiere, you'll have to make due with vague, but still interesting quotes. For instance: in an interview with the Hindustan Times, Nathalie Emmanuel, who plays Daenerys' faithful advisor Missandei, divulged that viewers can expect a "real push" in the final season.
"Like in the last couple of seasons, we have seen the pace of the show increase with the stakes getting higher and higher. There are so many storylines that have to come to conclusion. We have to play them out, so the pace of the show is continuing on that sense," the Fate of the Furious star said. "There are so many characters and stories that haven't found their conclusion. So, this season is going to be incredibly satisfying for people. It is going to be incredibly exciting and heartbreaking… I am very excited for people to see it. We have been working so hard on it. The production is finished now." Emmanuel added, "I feel like people will have their mind blown when they watch the final one."
In other Thrones news, director Alan Taylor compared Dany's (ice) dragon Viserion getting killed to your pet dying. "As a director, it's great when you have a moment like that because you know it's going to have an impact. I knew that killing a dragon was going to be like killing a puppy," he said. "It's an emotional moment when you kill a character that's flesh and blood and human, but killing a creature that's beloved the way dragons are? I knew it would have impact."
Humans are a dime a dozen on Game of Thrones, but dragons must be protected at all costs.
(Via the Hindustan Times and the Hollywood Reporter)