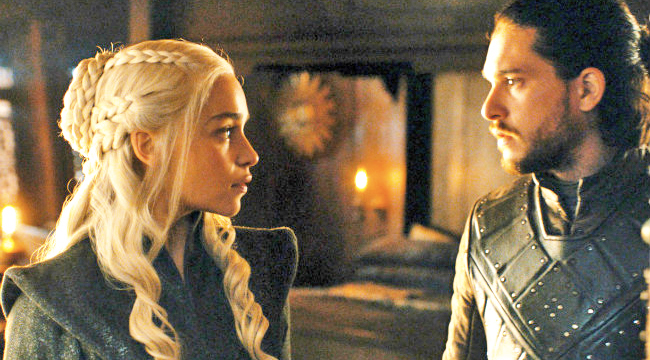 One of the most notable moments from the Game of Thrones season seven finale (which aired approximately 43 years ago) was Tyrion's reaction to Jon Snow/Aegon Targaryen and Daenerys Targaryen making whoopee. The Lannister looked mighty… concerned? Jealous? It's hard to parse what was going through Tyrion's mind. Director Jeremy Podeswa tried to explain, saying that "when things get personal, then people make decisions based on their emotions, and that can complicate matters going forward, so I think he sees the potential here for things to get very messy," while Peter Dinklage went with the ol' "it's complicated" answer to explain what Tyrion was thinking in the moment.
But it turns out, he has the hots for the Mother of Dragons.
Vanity Fair's Game of Thrones expert Joanna Robinson dug through the show's exhaustive scripts housed at the Writers Guild of America West library and discovered this description from season six's "The Winds of Winter," when Daenerys is preparing to leave Meereen (and made Tyrion her Hand):
"He studies her face. […] Dany is staring into the distance so Tyrion is able to watch her from up close. Goddamn but she is beautiful. […] He watches her for a beat too long and turns away. Lost in her own thoughts, she doesn't notice that he's flustered."
Later, for season seven's "The Spoils of War" (the one with the Loot Train Attack), the script reads, "The brother he loves races towards his probably death at the hands of the queen Tyrion also loves." Lovestruck Tyrion isn't the most interesting direction to take the character, but it does lead to some big possibilities for season eight: would he kill sister Cersei to save Daenerys? What does his jealously mean for Jon? Or maybe the scripts are lie, and Tyrion is a secret heel who's waiting for just the right moment to take out the Targaryens? A Lannister always pays his debts, and is an undercover assassin.
(Via Vanity Fair)