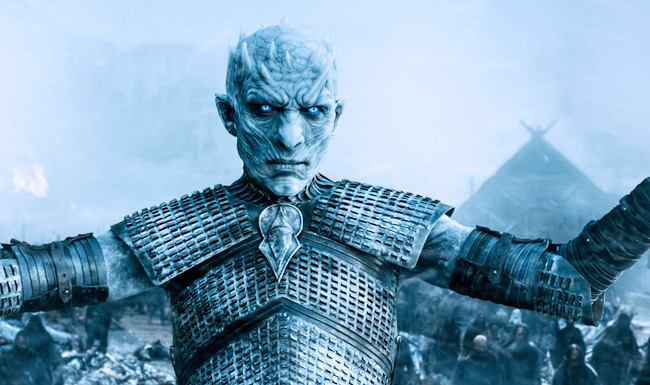 Last week, HBO ordered the first (of many?) Game of Thrones prequel pilot. The series, from Kingsman: The Secret Service co-writer Jane Goldman, will be set thousands of years before the existing show, during the "world's descent from the golden Age of Heroes into its darkest hour." A Song of Ice and Fire author George R.R. Martin is attached as creator and executive producer (with a "story by" credit), and on his website, he shared his thoughts on the prequel:
"None of the characters or actors from GAME OF THRONES will appear in the new show. This one really puts the PRE in prequel, since it is set not ninety years before GAME OF THRONES (like Dunk & Egg), or a few hundred years, but rather ten thousand years (well, assuming the oral histories of the First Men are accurate, but there are maesters at the Citadel who insist it has only been half that long). We're very early in the process, of course, with the pilot order just in, so we don't have a director yet, or a cast, or a location, or even a title. (My vote would be THE LONG NIGHT, which says it all, but I'd be surprised if that's where we end up. More likely HBO will want to work the phrase 'game of thrones' in there somewhere. We'll know sooner or later)."
The Long Night: A Game of Thrones Story has a nice ring to it.
Martin also praised Goldman (she's currently working on Disney's live-action The Little Mermaid), who he called "an absolute thrill to work with… and my god, what a talent." As for the other prequels: one has been "shelved," while the three others "remain in active development" (Martin expects at least one more pilot to be filmed). Speaking of things being in active development:
And yes, before you ask, work on WINDS OF WINTER continues, and remains my top priority. It is ridiculous to think otherwise. If I wasn't busy with WINDS, don't you think I'd be scripting one or more of these pilots myself? It's not as if I've never written for TV… (Via)
Let George R.R. Martin write (and watch the New York Jets and get eaten by a shark — I'm not sure which one hurts more) in peace.
(Via George R.R. Martin)