The final episode of Game of Thrones is here… is what we'll say to no one in particular this Sunday night. Until then, we'll have to settle for the final episode (photos) of Game of Thrones. As you might imagine, considering this is most-secretive and -hyped series finale ever, HBO is reluctant to give much away. The network usually sends a half-dozen images for the upcoming episode, but not this time — there's only two, one of Daenerys in the aftermath of her genocide and another of Tyrion looking concerned. He's very good at that.
Take a look at the photos below.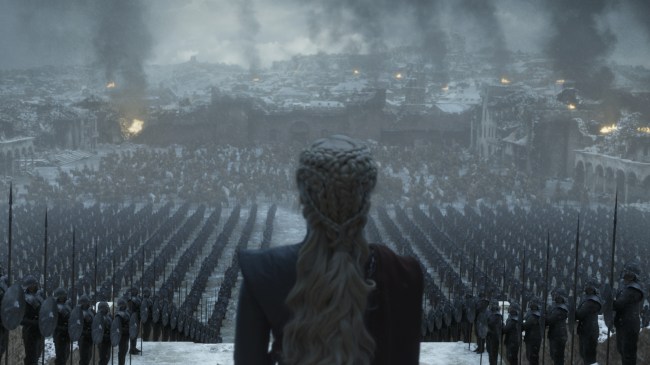 As for what to expect from the finale, that's also shrouded in mystery (to quote another acclaimed HBO series, "Let the mystery be"). Emilia Clarke said she cried "loads of tears" when filming her last scene, while Kit Harington described the finale in one word: "Disappointing… No, epic. I don't know, one of those words." Peter Dinklage was equally vague, only giving away that he loves "how it ended up. And how it ends up for everybody. [David Benioff and D.B. Weiss] had a beautiful gentle touch with some and a hard touch with others." No kidding.
The final episode of Game of Thrones airs Sunday, May 19.