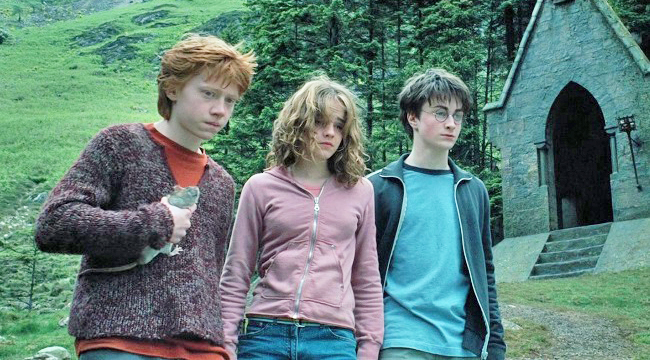 With his upcoming Netflix film, Roma, hitting the festival circuit ahead of its premiere in theaters and on Netflix later this year, filmmaker Alfonso Cuarón has reentered the spotlight. Yet the Mexican director of films like Y Tu Mamá También has dwelled within its heat before, especially when he helmed the third film in the Harry Potter series, Harry Potter and the Prisoner of Azkaban. While speaking about his career with Vanity Fair at the Telluride Film Festival, Cuarón opened up about his experience with the latter, which he claims he never would have done if it weren't for Pappy McPoyle himself, Guillermo del Toro.
It's widely known that Del Toro convinced Cuarón to do Prisoner of Azkaban, but the details of the pair's conversation, which are hilariously NSFW, were only just revealed at Telluride. For aside from calling Cuarón an "arrogant bastard" for not wanting to do the film, Del Toro also berated him so much that, as the former told Vanity Fair, "it's just untranslatable from the Spanish":
I talked with Guillermo, as I always do, and he says, "What's happening? Any projects going on?" And I said, "I'm going for Harry Potter, can you believe it? And I even made fun of it. I hadn't read the books or seen the films. And then he looks upset with me. He called me flaco, that means skinny [in English]. He says, "F*ckin' skinny, have you read the books?" I said, "No, I haven't read the books." He says, "F*ckin' skinny, you're such a f*ckin' arrogant bastard. You are going right now to the f*ckin' bookshop and get the books and you're going to read them and you call me right away."
Needless to say, Cuarón went to a nearby bookstore, bought the first four books, read the first two and was halfway through the third before he called Del Toro back:
I called him and said, "Well the material's really great." He says, "Well, you see you fuckin' …" I mean, it's just untranslatable from the Spanish…. As a filmmaker, it was almost like a lesson of humility, of saying how am I going to do it my own, but at the same time, respecting what has been beloved in those couple of movies?
Thanks, Pappy!
(Via Vanity Fair)