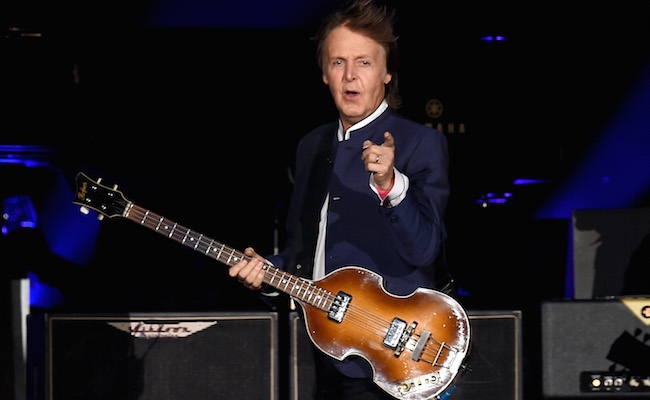 Paul McCartney swaps out a Yellow Submarine for an amusement park pirate's life in a new poster for Pirates of the Caribbean: Dead Men Tell No Tales. No, it doesn't feature Macca and Keith Richards rocking out back-to-back while Johnny Deep leers in the distance, but it does feature a proper McCartney makeover.
The buccaneer Beatle is all gussied in his fancy Disney pirate garb in this promotional image shared by the rock legend on his assorted social media platforms. He's helped himself to the eye shadow warehouse on set and bless him for it. If you're in a mystery solving mood, there are a few things attached to McCartney's character to speculate about. For example, what might those playing cards mean? Also, why does Paul give a look like he's ready to see me get kicked to death for sport? So much to unpack! Mind you, he won't be in the film from opening to end credits.
According to Deadline, filmmakers Joachim Ronning and Espen Sandberg and producer Jerry Bruckheimer put McCartney into the mix as an added-on scene to the already shot fifth installment. What's in store for McCartney character is "an extra big set-piece scene." Sensible.
Disney's latest entry into the Pirates franchise features a mix of new yet familiar faces (like McCartney) with some integral characters returning to the adventure. Pirates of the Caribbean: Dead Men Tell No Tales starring Depp, McCartney, Javier Bardem, Brenton Thwaites, Kaya Scodelario, PLUS Keira Knightley, Orlando Bloom and Geoffrey Rush reaches theaters on May 26.