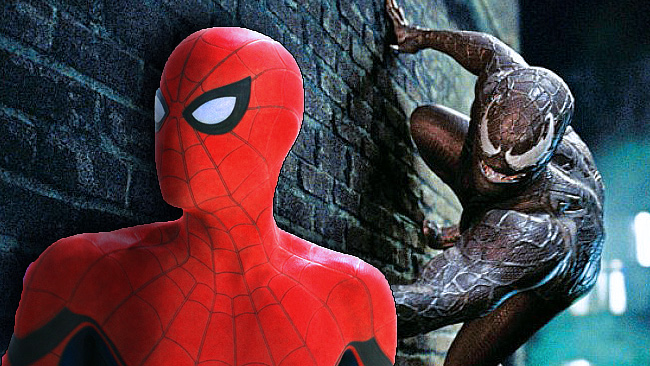 The question of whether or not Spider-Man will appear in Sony's Venom movie (starring Tom Hardy in brooding journalist mode as Eddie Brock / Venom) has once again come around, along with rumors of another character's presence and rumors about whether the film will be Rated R or PG-13.
Previously, Sony's Amy Pascal said Spider-Man: Homecoming and Venom are "in the same world and they will be connected to each other" while Marvel's Kevin Feige looked gobsmacked by that idea, later seemingly contradicting it by placing Spider-Man squarely in the MCU and not Sony's Venom spinoff, saying, "Right now, Spidey is in the MCU."
It turns out, both Pascal and Feige may be telling the truth, according to a new rumor that Spider-Man won't be in Venom… but Peter Parker will. On the most recent episode of Collider Heroes, John Schnepp claimed Tom Holland was on the Venom set playing Peter Parker but not donning the Spider-Man suit. "Tom Holland was on set filming scenes on Venom for at least two days as Peter Parker. Okay, so I'm not saying Spider-Man is in the film. When I say Tom Holland's Spider-Man is in the film, I'm saying Peter Parker is in the film," Schnepp revealed. He also pointed out the film's rating hasn't been set and may end up being PG-13, so that puts the kibosh on any claims Venom would automatically be kept in a separate universe due to an R-rating.
Another character who is also rumored to show up is Carnage, a villainous symbiote to fight the now anti-hero Venom. That rumor is also being stoked by Tom Hardy himself, who briefly posted this picture on his Instagram page then swiftly deleted it: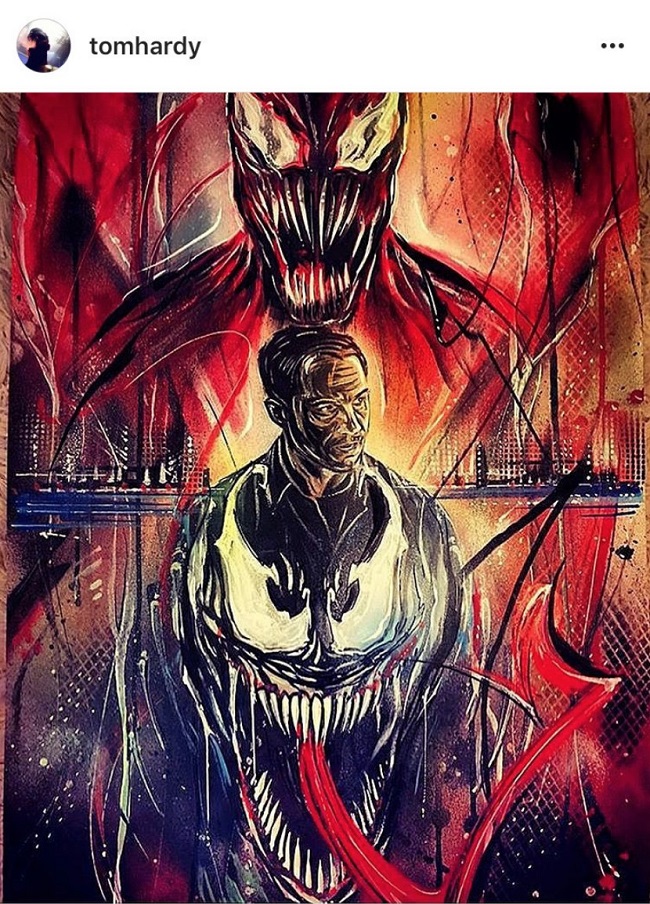 It doesn't prove Carnage is in the movie, of course. Hardy may have just liked the artwork. We may have to wait till the movie opens this October 5th to find out. And since we're already talking about symbiotes and Tom Hardy's Instagram, could we put in a request that the symbiotes look less like Topher Grace and more like these snazzy Care Bear jammies?
(Via Collider Heroes, Screen Rant, We Got This Covered, CBM, and Tom Hardy)