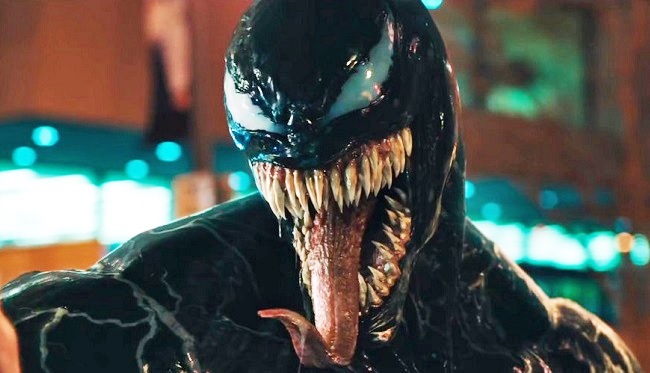 Venom opens this Friday, and we'll have our full review up tonight (our interview with director Ruben Fleischer is available here), but in the meantime, critics were allowed to share their first reactions to a screening late Monday night, and hoo boy. Much like seeing how Tumblr reacted to Venom's long tongue, the critics' reactions leave us unsettled, yet intrigued.
But before we get to those tweets, it's interesting to note that Tom Hardy revealed his "favorite 40 minutes" of scenes didn't make the final cut. He made the tongue-in-cheek claim almost five minutes into this interview with Rob from Comics Explained:
"There are, like, 30 to 40 minutes' worth of scenes that aren't in this movie… all of them. Mad puppeteering scenes, dark comedy scenes. You know what I mean? They just never made it in," Hardy said. Co-star Riz Ahmed needled him that maybe those takes just weren't as good as he thought they were. Tom joked about being crestfallen at that insult, making a reference to the "Hello darkness, my old friend" meme regarding Ben Affleck's Batman. The joking continued right to the end, when Hardy tells Rob from Comics Explained, "You never did explain the comic."
The claim that 30 to 40 minutes was cut probably won't quell rumors about an R-rated cut, but executive producer Matt Tolmach has already stated there isn't an R-rated cut anywhere, with director Ruben Fleisher adding that the intention was always to "push the violence to the hilt" while remaining PG-13 and using The Dark Knight as a reference point.
Hardy has since gone on to clarify his comments during a red carpet interview with IGN at the premiere:
So with those rumors out of the way, let's get to the screening reactions. Venom premiered in Westwood, California, on Monday night, and it seems as though people aren't calling the movie good so much as they're calling it fascinatingly strange and perhaps anachronistic: