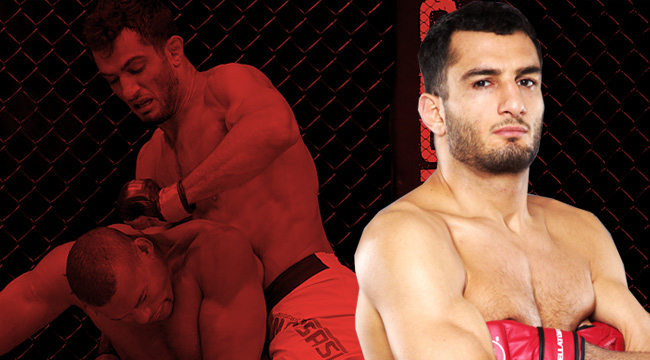 When Gegard Mousasi announced that he would be leaving the UFC back in June, it felt like a real missed opportunity for both parties involved. "The Dreamcatcher" was riding a five fight win streak — the longest of his UFC career and the longest of his professional career since 2009 — at the time, during which he had run through names like Vitor Belfort, Uriah Hall, and Chris Weidman (the latter via a highly controversial TKO, but still).
He had fought in the co-main or main event slot in 11 out of his 12 appearances in the Octagon. He had even begun to develop, dare I say it, a personality that was connecting with fans. And yet, he and the UFC could not come to an agreement regarding what his "value" actually was.
Stop me if you've heard this one before.
Luckily, Mousasi was quickly scooped up by Bellator, joining such former UFC stars as Rory MacDonald and Lorenz Larkin in the promotion's suddenly flourishing mid-tier divisions. It's a move that has provided him with a lot of freedom, both in the cage and out. He may have 50 fights under his belt, but Mousasi has only just begun to wow us.
"I was able to bring my friends into Bellator," said Mousasi in an exclusive interview with Uproxx.
"Maybe after I win the middleweight belt, I can go up to light heavyweight. You can have your own sponsors…you name it. If you want to have a crazy walk to the cage, you can do that. It's not so many rules that you have to stick by. Everyone knows the UFC is very strict, even with walkouts. They want to have you coming out to tough, hard music. Bellator is a bit more free, and I think fighters appreciate that."
A walkout music dilemma? It seems that Mousasi and MacDonald have even more in common that you'd think.
But while Gegard has become much more outspoken about his perceived treatment during his time with his former promotion in recent months, he doesn't want to join the ranks of the UFC's many disgruntled ex-employees.
"I am thankful. I don't want to be a whiner, but there's a lot of things that could've been handled better, that the fighters would've appreciated," he added.
"They do what they like. They're not going to ask the fighters what they think. If they would've asked the fighters about the Reebok deal, everyone would've said no. That's the problem; you can't take money out of the pockets of the fighters. Of course they're going to be upset."

Now, Mousasi finds himself carrying an unfamiliar torch into Bellator. If being a former member of the biggest promotional titan in the sport wasn't already enough to earn him a target on his back, then following in the footsteps of his former UFC cohorts — who have largely (and perhaps surprisingly) struggled to compete under the Bellator brand — certainly has. In a time where the talent gap between the UFC and Bellator continues to shrink by the day, the pressure has only increased on those members of the former looking to prove that there's more than one place for the elite to compete. True to form, however, Mousasi appears unfazed by said pressure.
"Switching from the UFC to Bellator, I feel obligated to deliver, but it's more about delivering to Bellator, Viacom, and Scott Coker than on the idea of being a former UFC fighter."
Of course, there is one thing that Mousasi will carry over from his time in the UFC: a fierce willingness to out any and all potential PED users. Given Bellator 185 opponent Alexander Shelemenko's own checkered past in that regard, Mousasi made sure that the Russian striker was tested extensively before agreeing to step into the cage with him.
"The guy has tested positive for 50 times the regular testosterone level of a normal human being," said Mousasi.
"You cannot come to me and say, 'I took a pill, I didn't know what it was,' because even if you take a supplement from a store, it's not going to raise your levels 50 times. It's cheating, like going into a fight against a guy with a knife. I dealt with this with [Lyoto] Machida. I told the [referee] he was greased up, that he was on something, and after USADA he wasn't half the fighter that he used to be. A lot of UFC fighters haven't been themselves since USADA. And if they cheat, even the guys who usually fight clean are going to feel obligated to cheat because otherwise you cannot compete."
With Shlemenko having aced all of his tests thus far, however, Mousasi has dedicated the entirety of his focus to putting on another clean, clinical performance this weekend. Stating Shlemenko's tendency to "fight the same" and rely on flashy, spinning attacks, the Iran-born, Holland-raised striker believes his precision and size will be his keys to dictating where the fight goes. That said, he's also preparing for a war, a notion that has only been echoed by his opponent.
Should he get past Shlemenko, however, Mousasi aims to make good on every opportunity that he wasn't afforded in his former promotion.
"I have to beat Shlemenko, and then get my title fight. And then, Rory MacDonald, maybe defend against him if I win the belt, or it's Ryan Bader at light heavyweight."
In other words …
Bellator 185 kicks off from the Mohegan Sun Arena in Uncasville, CT this Friday at 9 m EST.