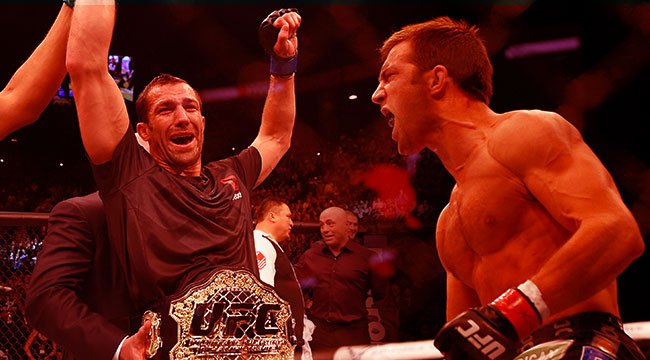 Luke Rockhold was patiently awaiting his UFC 199 rematch against Chris Weidman as yet another chance to validate himself as one of the best fighters in MMA today, but a Weidman injury spoiled the plan. Now, on two weeks notice, Michael Bisping has stepped up and is finally getting his long sought-after UFC title shot. But, we've seen this story before, and the ending was brutal on the brash, British fighter. Luke Rockhold became the first (and only) man to submit Bisping in a one-sided affair when the two middleweights met in 2014. Now, the stakes are the highest they can be, but Luke Rockhold believes the result will be the same, if not worse for Bisping.
We spoke briefly to UFC middleweight champ Luke Rockhold about this sudden change of plans for his first title defense, and how he plans on running the middleweight universe for the foreseeable future.
So now we're here. Can you even envision Michael Bisping finally winning UFC gold?
(Laughs) My job is to never make that possible. It's funny to even think of it, but I know what's in front of me, so I know it's not gonna happen.
How does it feel fighting someone you've already defeated, but with higher stakes?
My gameplan doesn't change, my focus doesn't change, my routine doesn't change. I stick to my plan and I go about my business the way I've been going about it my whole career. I go back to studying a little bit different, go back to some old techniques, but it's not anything much different than what I was up against. Less wrestling, more boxing, so it's just a nice change, rather than someone who will just try to wrestle me. So yeah, nothing much changes right now.
Do you think Bisping deserves the title shot?
Given the layout right now, I think it makes sense for Bisping to get it. Jacare obviously had a controversial fight with Yoel Romero, more controversy grew after the fight. (Ed. Yoel Romero failed a post-fight drug test.) That loss was taken off his record, right? I guess I don't exactly know what happened to that…
It's currently still a split-decision loss.
Yeah, so Bisping is the only guy with a winning streak, then. He's at the top of the game with a win over "greatest of all time." So I think it makes a lot of sense right now.
Did you watch his fight with Anderson?
I did, I was actually cage-side.
What did you think about that? Because that was a very strange fight.

Yeah, it was a weird fight. It was a weird fight. Who knows? I mean, you never knew what Anderson was gonna be like back from the layoff and whether those chemicals played mind games with yourself sometimes. From what I've seen in the past, these guys, they hesitate without that, so I knew he was gonna be hesitating and Bisping was gonna be Bisping. Bisping always fights to his ability. He's not gonna know if or when or what Anderson is gonna do. You know what Bisping's gonna do. He's gonna go in there, he's gonna fight his fight no matter who he's up against, he's gonna come in and do the best he can. And that's kind of what I expected.
Did you think that fight needed to be stopped after Anderson hit him with that flying knee?
I mean, Bisping wasn't technically out. I think it was a weird situation. It was favorable, obviously, to Anderson, since Bisping didn't understand the rules quite well and complained about the eye poke, or whatever the hell it was, at the time. So I think that favored Anderson, that led to the flying knee. People want to talk like Anderson easily won the fight, but that flying knee was pretty much a mistake from Bisping to turn away and take advantage of an eye poke that wasn't…you know, you gotta be on your game. So I think Bisping dominated the rest of that fight, that was the big change in the fight at that point due to the eye.
I say that because had Bisping lost to Anderson, he never would be fighting you now. It's just an interesting situation.
That's just the fight game. It's an interesting place to be in.
Before your first fight with Bisping, you predicted you would finish Bisping in the first round and it took you five minutes and 59 seconds. Do you have a prediction this time around?
It's never good enough just to beat Michael Bisping, you gotta go out there and you gotta put on something special, you gotta make this dude humbled in any way you can. I put on a one-of-a-kind performance against Bisping. You look at the talk coming back, making excuses, and he's still trying to fight me again. So this time, I expect something spectacular. Last time was good, this time is gonna be that much better. I'm gonna pull off some ninja shit on this dude. Short order.
And by making excuses, you're talking about the accidental headbutt from the first fight that he's brought up a lot in the press lately?
He brings up the headbutt, but the fight wouldn't change, nothing would change, and I'm gonna go secure that. I guess that it's never enough to beat Bisping, he's gonna make an excuse for everything, so I gotta go out there and I gotta knock this dude out in spectacular fashion. I think he'll remember this one, I'm gonna make this one sting in his memory and shut this guy's mouth. There's nothing sweeter than shutting Michael Bisping's mouth.
After the last fight, you said you respected him and shook his hand. How is it back to bad blood?

In the moment, you've gotta respect the fighter that he is, coming in and fighting clean his whole career against a bunch of suspects and guy who has obviously been on something deserves respect. And he comes in to fight every time no matter who the fight or where. So I give him that respect, but outside of that, I've never liked Bisping as a person and I've been pretty outspoken about that past that fight, outside of that cage. Over and over again, countless media obligations we've had to do together, he's been talking and I always wanted another opportunity to shut him up.
You've seen how Vitor has looked recently post-USADA regulations, and you've said in the past that you wanted that rematch badly. But do you still want to rematch this Vitor that was destroyed by Jacare?
There's no point. There's no point now. Fighting Vitor would have been nice and a nice payday, but obviously, people are starting to get the picture of what he is and what he was. So the guy's laughable to me. Everything he's done is bullshit, pretty much.
So you don't need closure?
My career is fine. I'm thankful for that situation in my life. It cleared my head, believe it or not, and it made me a better fighter to see the change and the turnaround that I had at the time. I sharpened my tools and I made a mistake that'll never happen again. So I'm thankful for that.
After your fights, you usually seem restrained or even somber. Why is that?
I'm blessed to live the life I'm living and to go in there and overcome these obstacles and achieve these goals, lifelong goals. It's an amazing feeling every time to achieve those. Anything can happen in this game, this is the fight game, anything can go wrong. It's the lead ups to the fights, everything it takes to get to these fights sometimes really pulls that out of you and it makes you grateful for the situation when you overcome that. It's like nothing else in any other sport I've ever encountered, it's a feeling that you just can't match.
Weidman said he wanted to go up to 205, Anderson obviously did. You're a big middleweight, will you ever go up to light heavyweight?
That is a possibility. I'm not going anywhere and I'm not stepping on my boy DC's toes. If he were to retire and leave an opening, I would definitely consider the move.
So not even a feature fight, just straight to the belt?
No, no. I wouldn't be bullshitting around, I'd go straight for the title. And I wouldn't do that because, obviously, DC is the champion. I'm not jumping around everywhere like Anderson, picking fights and doing that stuff, no. I'm not fucking around, I want titles, I'm not just picking fights, I wouldn't avoid anybody. Anderson didn't want to fight Jon Jones, he didn't want the glory, he just wanted the proof that he could beat up a couple of 205-pounders.
Do you want to fight Jon Jones?
I want the biggest and best challenges, that's what I want. I want what's in front of me right now and I want to beat Michael Bisping, I want to shut his mouth and I'm gonna do it in short order. Take it one fight at a time.
Are you surprised to have an interview where someone doesn't ask about Conor McGregor?
No comment.