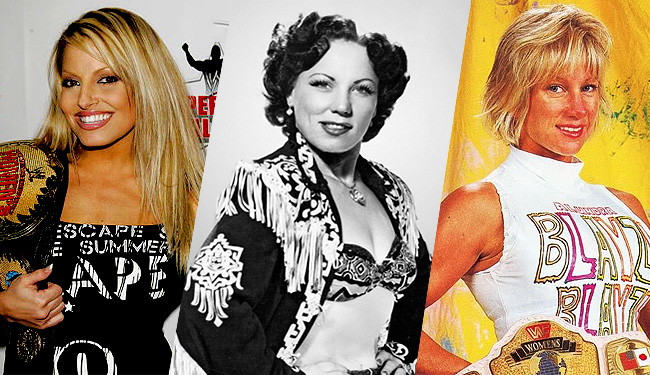 On Monday, Nikki Bella retained her WWE Divas Championship via DQ in a match against Charlotte, officially making her WWE's longest-reigning female champion since the creation of the Divas Championship seven years ago. In the world of WWE, where anything that happened more than a month ago is ancient history, that makes Nikki Bella the greatest Women's Champion in THE HISTORY OF FOREVER, which has caused some folks to freak out just a little bit.
Here's the thing, though; the WWE Divas Championship has much deeper roots than you might think, and a number of women have absolutely dwarfed Nikki's "historic" accomplishment. Personally, I'm a Nikki fan and have no beef with her being champ, but if you're struggling with it, maybe putting things into greater historical context will help. Here's six women whose women's title won't be surpassed by Nikki Bella any time soon…
A History of the Women's World Championship: Before we get into this, let's set the stage a bit. Most at least moderately hardcore fans have a rough idea of the history of the WWE Championship. They may even know some scattered history of the WCW and NWA world titles. But what about the history of the Women's Championship? Well, believe it or not, today's butterfly-shaped WWE Divas Championship can trace its lineage all the way back to the 1890s.
The original women's world championship actually predates the men's world championship. The title's first champion was Josephine Blatt, a carnival strongwoman who went by the stage name Minerva. The history of the Women's Championship is a bit murky for the next few decades, only coming into focus when the legendary Mildred Burke first won the title in 1935.
Unfortunately, Burke and her promoter husband Billy Wolfe split in 1952, leading to a split in the Women's World Championship they controlled. The NWA backed Wolfe, leading to the creation of the NWA World Women's Championship. Meanwhile, Burke created her own title, the WWWA World Championship. The Fabulous Moolah would soon seize seemingly permanent control of the NWA Women's Championship, while the WWWA Championship would eventually become the top prize in All Japan Women's Pro Wrestling.
By the '80s, Moolah was doing most of her wrestling for the WWF, so when they pulled out of the NWA in 1983, Moolah sold the championship to Vince McMahon rather than give it back to the NWA, and thus it became the WWF Women's Championship. Twenty-five years later, WWE would create the Divas Championship as a vanity belt for Michelle McCool, and then two years after that, the WWE Women's and Divas titles were unified, with the Divas belt now representing the title's lineage. So yeah, there's a lot of history riding on those butterfly wings.
Mildred Burke
This lady was World Champ twice as long as the Divas Championship has even existed.
Number of Days Held: 4,800 (approx.)
Key Challengers Beaten: Mae Young, Gladys "Killem" Gillem, June Byers, Clara Mortensen
Mildred Burke was the most influential and successful female pro wrestler of all-time. Despite standing just over 5 feet tall, Burke was a solid 140 pounds of muscle, and had the legit grappling skills to twist anybody, man or woman, into a pretzel. She started her career wrestling men on the carnival scene, before winning the Women's World Championship in 1935. She'd trade the title a couple times over the next few years, but in 1938, her and her promoter husband Billy Wolfe locked the belt down. For the next 14 years, Burke and a troupe of women managed by Wolfe traveled the world putting on shows, and business was good. During Burke's heyday in the early '40s, she was the biggest pro-wrestling draw in the world, selling out 19,000-seat arenas for title matches. Her reign ended in 1952, not because she was defeated in the ring, but because of the aforementioned split from her husband. Despite being one of the most successful names in pro wrestling, the sad fact was the men in charge of wrestling at the time saw Wolfe as the more valuable property and tried to ostracize Burke. Things were about to get ugly.
June Byers
You don't mess with somebody rocking that much fringe.
Number of Days Held: 760
Key Challengers Beaten: Penny Banner, Betty Jo Hawkins, Millie Stafford
Mildred Burke was stripped of the title in 1952, but continued to proclaim herself the champ. In 1953, June Byers would become the new Women's Champion in a 13-woman tournament, despite the fact that the old champ never lost the belt. In 1954, a two-out-of-three falls match was set up between Burke and Byers, who both nursed a legit grudge against each other (it's rumored Byers broke up Burke and Wolfe's marriage). Byers won the mostly worked first fall, but things got real during the second fall. June Byers was a tough cookie, but she was no match for the veteran Burke, and the second fall went more than an hour with Byers not being able to put Burke away. Eventually, depending on who's telling the story, the officials either stopped the match or Burke walked out, and thus Byers was awarded the title because she had at least won the first fall. This is where the original Women's World Championship split, as Burke was "Okay, fine, f*ck you all" and created her own world title, and the NWA briefly took over the operation of Byers' belt, renaming it the NWA World Women's Championship. Byers held the belt for more than two years, before being stripped in 1956 (although Byers continued claiming to be champ until 1964).
The Fabulous Moolah
Fabulous Moolah with a roll of cash and a title belt with her face on it. Lady had SWAGGA.
Number of Days Held: 3,651
Key Challengers Beaten: Judy Grable, Bette Boucher, Donna Christanello, Wendi Richter
With Mildred Burke and June Byers out of the way, there was an opening for a new dominant Women's Champion, and in 1956, the exotic Slave Girl Moolah would win the title in a 13-woman battle royal. Shortly after her win, Vince McMahon, Sr. would re-christen her The Fabulous Moolah, and from that point on, Moolah would mostly wrestle in the WWF's northeastern territory. It's often claimed that Moolah had a 28-year unbroken run with the belt, but that's not true, as she briefly dropped the belt (usually for no longer than a month) to a number of different women, making her infamous 28-year reign actually five separate reigns. Her most impressive reign was her first, which ended after 10-years (minus a day) when she lost to Bette Boucher.
Sensational Sherri
Sherri in her marginally less crazy days.
Number of Days Held: 441
Key Challengers Beaten: The Fabulous Moolah, Velvet McIntyre, Rockin' Robin
Today, most people remember Sherri Martel as the vampish, "crazy lady" valet of Randy Savage and Shawn Michaels during the early '90s (and perhaps Ric Flair in the late '90s if you were a WCW fan), but before that, she was a more traditional in-ring competitor, decked out in eye-popping neon workout duds and a truly astounding '80s blowout. She could also bring it in the ring, having come up through indie promotions run by Grizzly Smith and Bill Watts and the "only legit wrestlers allowed" AWA. It was Sherri who finally, definitively, broke Moolah's hold on the Women's Championship, and she held onto it for more than a year, before a bad back gained absorbing bumps no other woman would take forced her to retire from in-ring competition.
Alundra Blayze
Alundra Blayze's patented "I'm going to German suplex you on your head" look.
Number of Days Held: 342
Key Challengers Beaten: Leilani Kai, Luna Vachon, Bull Nakano, Kyoko Inoue
In 1993, WWF revived the Women's Championship, with an eye toward promoting more physical, athletic women's matches. Their choice for champion was Madusa Miceli, who had feuded with Sherri Martel and Wendi Richter in the AWA and battled it out with Japanese badasses like Chigusa Nagayo in AJPW. She was transformed into the squeaky-clean smilin' babyface Alundra Blayze, and fed a steady diet of some of the hardest-hitting ladies in the world, like Luna Vachon, Kyoko Inoue and Bull Nakano. It was Nakano who would end Blayze's nearly year-long championship reign at awesomely-named Big Egg Wrestling Universe supershow in Japan. Blayze would get the title back, but soon after, a cash-strapped WWF fired her as a cost-cutting measure. A year later, she would show up on WCW Nitro, drop the WWF Women's Championship in the trash, and be blackballed from the company for a solid two decades.
Trish Stratus
Sure you don't want to give up that yoga stuff and come back, Trish?
Number of Days Held: 448
Key Challengers Beaten: Lita, Victoria, Molly Holly, Mickie James
You don't have to travel too far in the Wayback Machine to find impressive Women's Championship reigns, as Trish Status put together a run in 2005 and 2006 that wouldn't just beat A.J. Lee's world title record, but her husband CM Punk's, as well. Stratus started her most impressive title reign by beating her rival (and now BFF) Lita in January of 2005, and didn't lose it until WrestleMania 22, where she was beaten by Mickie James. This reign was a bridge between the Trish/Lita/Molly Holly era of the Women's Championship, and the Mickie James/Beth Phoenix/Natalya era, and Trish beat top women from both eras to hold the title for 448 days.
So there you are, a few Women's Championship reigns Nikki Bella can look at, but probably never touch. Of course, I just listed reigns that were, obviously, statistically better than Nikki's. There are plenty of other more subjective, close calls. Who are some of your favorite Women's Champions of all-time?
(Via Slam! Wrestling, Bleacher Report, Wrestling Data and Wikipedia)