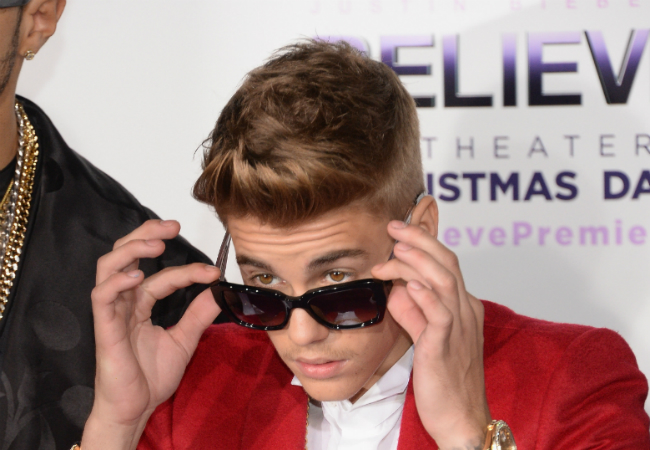 Yes, that's a real headline. I thought Sheamus calling him out for a fight in Dubai was the craziest WWE/Justin Bieber thing we were ever going to write.
Remember SummerSlam 2014? Sure you do. It featured that glorious main-event between Brock Lesnar and John Cena where Lesnar suplexed him 16 times and won the WWE World Heavyweight Championship. According to a blog post from former WWE writer Kevin Eck, it almost didn't happen. In its place would've been the exact f*cking opposite: Justin Bieber teaming with Cena and The Big Show against The Wyatt Family. No, YOU shut up.
Read this and picture Vince McMahon literally dodging bullets.
The idea was that Bieber would team with John Cena and Big Show to face the Wyatt Family in a six-man tag match that would have headlined SummerSlam in Los Angeles.

The proposed match was discussed among the booking team (which I was on) about five months before SummerSlam, but a deal with Bieber never came to fruition. I'm not sure how close it was to actually happening.

My concern at the time was that Cena teaming up with Bieber — who was making headlines for all the wrong reasons and most definitely would have been booed unmercifully by the WWE audience — would not have done Cena, the face of the company, any favors.
Don't worry, though, they had a plan for the negative reactions.
After the babyfaces went over in the match, Bieber would be so obnoxious in trying to take credit for the win that Cena would hit the Attitude Adjustment on him for a big pop.
No words. Can you imagine if this had happened? Imagine Justin Bieber coming off the top with a high crossbody to Luke Harper. Imagine Cena and Big Show beating everybody and letting Bieber have the pin. Imagine Justin Bieber pinning Bray Wyatt, you guys. It's easy if you try. Unless Triple H has some crazy plan to put Bruno Mars over The Undertaker at WrestleMania 32, I can't think of a worse idea. You know what Justin Bieber's contribution to a WWE show should be? Sitting in the front row and waving when the camera stops on him for a few seconds. It should probably be less than that.
I never thought I'd say this, but thank you, bad Justin Bieber headlines.