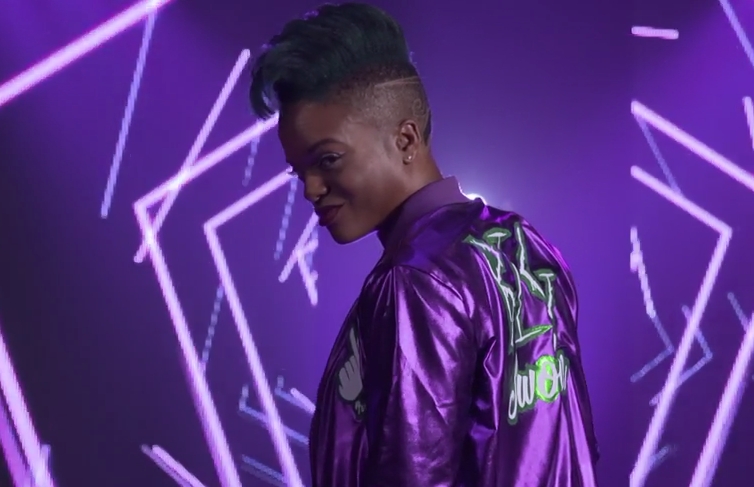 Aerial Monroe is a rising star in the independent wrestling world. Since she debuted in 2015 she's worked for promotions including Queens of Combat, Shine, and Shimmer. In 2018, 'Big Swole' was introduced to a larger audience when she competed in WWE's second Mae Young Classic tournament, where she won over the Full Sail crowd with her larger than life personality.
This Friday, May 17, Monroe has a chance to ascend higher when she challenges Zoe Lucas for Phoenix of RISE Championship at RISE Luminous in South Gate, California, which will be available to watch live on Fite TV. Ahead of this show, Monroe spoke to With Spandex about Rise, diversity, how she and her husband Cedric Alexander balance wrestling and family life, and more. That conversation is below and has been edited for length and clarity.
With Spandex: A question we usually ask people is who was your favorite wrestler as a kid, or who inspired you to start wrestling?
Aerial Monroe: Well, growing up I watched Lita and Trish and Stone Cold and all them, but really it was just watching Macho Man, like off-camera. That was actually kind of cool to see that he was just a regular person. That made everything more attainable.
You were inspired by Macho Man's actual life?
Yeah, because I lived in Clearwater, Florida, and I lived in Belleair, which is pretty close to where Hulk Hogan lived, so I always saw everyone, and just like seeing him, he was always, like, so enthralled with, like, skateboarding and stuff. Like, you'd do a kickflip and he'd be like, "Whoa, man, that's cool," and you'd be like, "Oh, thanks!"
When you started wrestling, how did you develop the 'Big Swole' nickname and your character?
Well, it was actually myself and Nicole Savoy and Shayna Baszler were joking around and they were like, "Oh, you got a little swole," and I was like, "I'm big swole out here," and then Nicole said, "Well, I'm little swole out here," and Shayna said, "I'm medium swole," and then I kind of took the nickname that I had with them and well, I have a big personality and I have a swole mentality. Everything I do is big and outlandish, so I thought I would just keep the nickname and turn it into something else that's closer to my heart.
Okay, so you know Shayna, you know other people in WWE, and you were in the Mae Young Classic this year. Is signing with WWE or another major company a goal for you?
Um, in all honestly, anything is possible at this point. Right now, I'm just trying to kind of focus on me, focus on my craft, focus on how high I can get just by myself. Later on in life if it is presented to me it is something I'll have to discuss, like, with my family and everything, but, you know, it's a personal goal of mine to one day work with them.
And as you're focusing on your craft, is there something since you've started wrestling that you feel like you've learned the most or developed the most?
I would say… my ability to open up to people has increased most definitely since I started wrestling. I've always been an outgoing, fun person, but if anyboy'd get unnecessarily close to me I'd be like, "I don't need more new friends; I have enough" type of deal, but being in this business has given me some of my closest friends to this day. They're like family to me, like I'll let them watch my child type of family.
How do you balance family life and wrestling life? Is there ever a struggle with that?
It takes a lot of prayer, in all honesty. (laughs) We have to make it work. It's something that we want to do. We both want to be wrestlers and be in the entertainment business, so we have to make it work. We have to find time for ourselves, we have to find time for each other, for our child, for, you know, activities that she wants to do, that we want to do by ourselves, and, you know, our date nights. We just make the time. It's difficult, but, you know, anything worth having is not going to be easy.
On the upcoming RISE show, you have a title match, and I'm wondering if there's anything unique about working for RISE in comparison to other promotions?
Rise offers not only just pure wrestling – I mean, it's also fun, and also full of lots of different women there. I've been to other promotions where diversity is just not an important factor for them… Maybe they're just looking over it. But Rise makes a point to have any and everyone included, and that's what I love about that locker room. There's just no drama and you have all different shapes and sizes, all different colors and backgrounds and ethnicities all in one area and everybody is built strong or built the way that their character and their persona is meant to be. They just know what they're doing. And they listen to their talent. You know, it's a rare thing to find.
What to you does it look like when a company makes diversity a priority? It seems like it's more than just… checking boxes for it to be effective. How do you think wrestling companies can be diverse in a meaningful way?
I believe that they could start – honestly, just start with the booking. Really, it all starts with that. Just having the spot open for the talent to come in, but also having the role not be, you know, subservient or be out of character or just having them come in and just, you know, jobbing out all the time. You know, at least give them something where it's a plan, like a plan of action, or just have different types of matches. I believe that people are tired of seeing the same people versus the same people. You know, like scratch the record; let's flip it; let's go to the B-side now.
It really just all starts with, hey, you may be, like, packed up now, be like, "Okay, this next month, let's try to incorporate someone else. Let's see if we can get a car-load of people, you know, have some dark matches, put on seminars." Get that word out there. Respond back to the emails. I know that that's hard, but there's twenty-four hours in a day. You can make time.

Okay, and if every wrestling company in the world had this thing where they were going to bring in some new person to try out and you had the opportunity to wrestle anyone, who would be your dream match right now?
I guess my dream match opponent right now would be Tessa Blanchard. I know everyone says her, but Tessa and I have been friends for a pretty long time, for years. And even before, like, right before she started training and everything, before I even started training. And we never necessarily got to have our match. Like, we got built up for one, but it fell through, and we've always trained together, but we never got a chance to truly work in front of a crowd, and it would be great if that would happen. It could be in front of any crowd, but I would rather it be in North Carolina somewhere in front of, you know, like our hometown people, just to get that feeling and everything, to give that match that stamp, out there in front of our trainer, George South, so he could be like, "Baby, that was great. I'm so proud of you." (laughs)
And your next big match is coming up against Zoe Lucas for the Rise Championship. What can wrestling fans expect from this match?
Well, I'm going to go in, assert my dominance, and I'm going to come out the victor. It's just plain and simple. I don't believe that Zoe can hold her own against me at all. She's not going to have her minions… so it's just going to be her versus Big Swole, and Big Swole's going to win every single time. It doesn't matter what she does. I'm going to keep going after her and I'm going to come out the eight RISE of the Phoenix Champion.