Previously on AEW Dark: SUPABAD Kip Sabian and SUPABAD Penelope Ford did super badly in a tag team match against SCU. Also, the "Gunn Club" wrestled a match, but it didn't make it onto the show for some reason, so the episode was like 30 minutes long. Luckily for us, I get the Gunn Club this week.
If you'd like to keep up with this column and its thinly veiled Best and Worst format, you can keep tabs on the Ins and Outs of AEW Dark tag page. Elle Collins is normally on this beat, but we're switching columns this week so I can go on vacation and not work on my birthday! For more AEW, make sure you check out the weekly Dynamite version of this column, and keep track of all things All Elite here.
Follow With Spandex on Twitter and Facebook. You can also follow me on Twitter, where everything and everyone is terrible.
You can watch the latest episode of AEW Dark here:
All In: Honoring The Legends Of Memphis Wrestling
Or, "of course I'd get the one where Boogie Woogie Man Jimmy Valiant shows up."
This week's Dark opens with the previously advertised Tribute To Memphis Wrestling Legends Except That One, featuring notable former Memphis-area wrestling stars like current NWA World Tag Team Champions the Rock 'n' Roll Express, Universal Heartthrob and roofie spokesperson Austin Idol, and the Artist Formerly Known As The Genius, Lanny Poffo.
There was also 'Handsome' Jimmy Valiant, better known to people of my region and generation as the Boogie Woogie Man.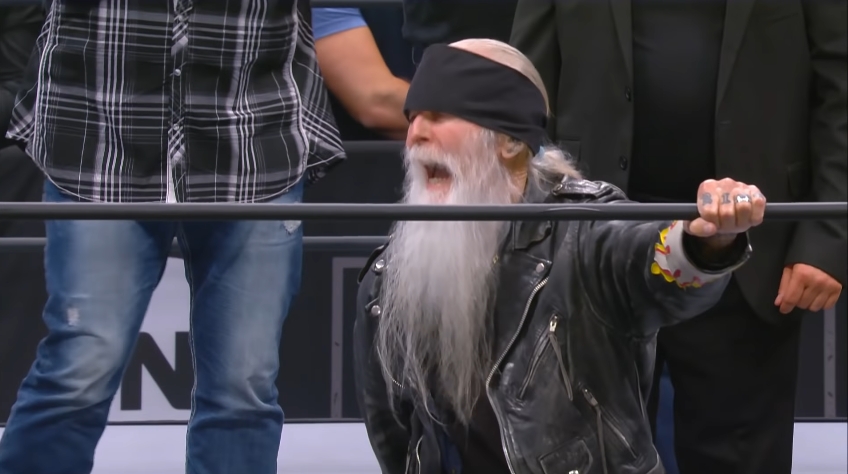 For the uninitiated, Boogie was kinda like Dusty Rhodes, if Dusty was a pansexual drifter who couldn't wrestle. Highlights from his career include repeatedly trying to kiss Tony Schiavone, kissing referees against their will, and entering into a polyamorous relationship with a cross-dressing Ronnie Garvin. Here he is dropping a People's Elbow, assuming the titular people are aggressively threatening hobos. It's incredible that he's still active and alive, considering he looked 95 years old in 1985. Nowadays he looks like a biker Santa Claus. If you sit on his lap, he'll bring you a carton of Parliaments on the 29th of December.
Other legends honored posthumously include 26-time (!!) USWA Southern Heavyweight Champion 'Too Sexy' Brian Christopher and the remainder of the Poffo wrestling family, including paterfamilias Angelo, and some guy you've never heard of named "Randy." I can't imagine ever buying and consuming a wet cylinder of tightly packed mystery meat just because a "Randy Poffo" told me to. Maybe if he started wearing sparkly robes and dressing like a Trapper Keeper. We also got a tribute to Tommy and 'Hot Stuff' Eddie Gilbert, with an appearance from 'Dangerous' Doug, in case you didn't already wish Jerry Lawler could've been there.
The Memphis announce team of Dave Brown and the late Lance Russell are also honored, with Brown sticking around to call Dark with Excalibur. I wish Brown would stick around and call the shows every week. He adds such a peaceful sense of comfort to a show otherwise called by 1-4 guys who LOSE THEIR MINDS and SCREAM about everything that happens. I know that's just what wrestling announcers are expected to do these days, so no shade on Excalibur or anything, I just miss the days when a relaxed adult in a blazer calmly talked about what was happening in the wrestling matches and only lost his shit when he had to.
In The Middle: Dungeons & Darbies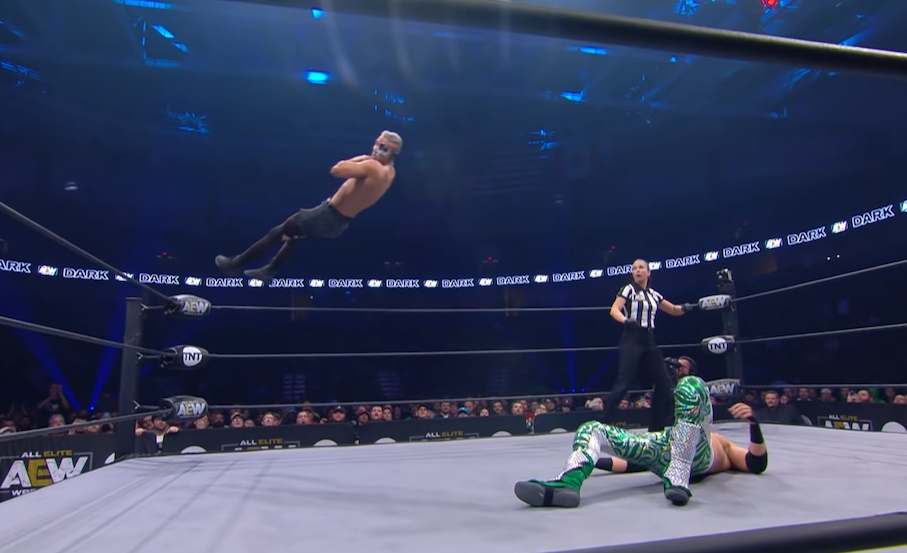 The opening match of Dark is rising star Darby Allin having to try a little too hard to defeat Brandon Cutler, an 0-5 guy who serves as QT Marshall-level backup for his friends in The Elite and recently started dressing up like a member of The Ascension.
I don't think I'm cooking up any hot takes when I say that Darby Allin's a lot better in the ring than Brandon Cutler. This actually makes them a nice pairing on paper, as Cutler's a bigger guy with less going for him, so Darby's going to win, but the size differential's gonna make him work for it. In practice, Cutler's in-ring work is really rough, and it brings down some of the people he's in the ring against. Allin looks like a star when he's in the ring with Cody Rhodes (or most people), but he can only look so good selling bad rope-hop karate kicks and moonsaults that come up short. It's just too much offense from a guy who's not especially good at offense.
On the plus side, Allin got another singles win, and Dave Brown got to say the phrase, "accomplished skateboarder."
All In: Portugal's Perfect Saiyan
Back in December, Nyla Rose tossed Shanna into a wall and took her guest commentator spot on an episode of Dark. The following week/night on Dynamite, Rose put Shanna through a table (and a referee) during one of those picture-in-picture commercial breaks. Their feud can't seem to make full-sized live television, but it's heated, and continues on this week's Dark.
They're supposed to have a match to settle the score, but Shanna (dressed like Goku) jumps Nyla before the bell. She then jogs and jumps directly into a spinebuster on the floor, which is a hell of a transition 15 seconds into a ringside brawl. That gives Nyla the idea to put her through a table again, but it backfires, and Shanna hits the Big E/Chessman spear through the ropes to table Nyla instead. It's more of a cross-body by the time it's thrown, but here you go: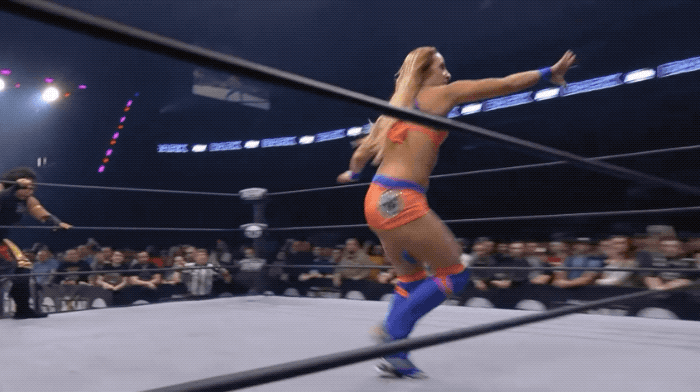 I like the odd little pause that happens between the moment of impact and everyone falling through the table. Nyla's already let go of the ropes, so it's not like she's scared to take the bump or anything; instead, it looks like Shanna hit Nyla with all the force she had, and that it was just barely enough to tip her backwards. Good stuff. Give these two a real tables match on Dynamite!
All Out: We're An Ass Fam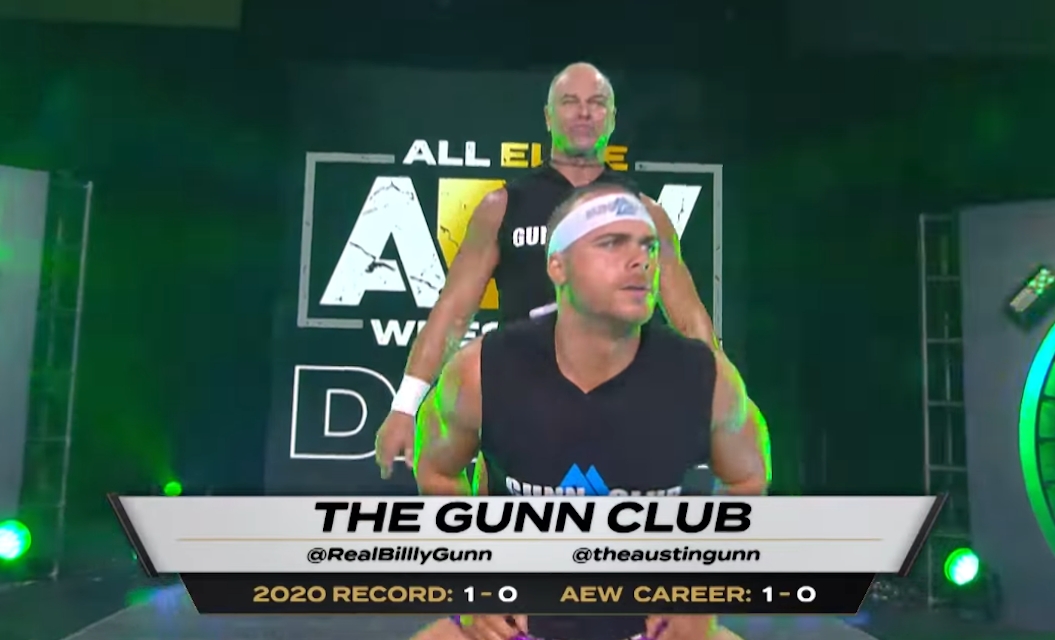 Their debut match got edited out of last week's Dark for some reason, so here's the official on-screen debut of The Gunn Club, Billy Gunn and his Billy sonn, Austin. They answer the question, "what would the New Age Outlaws have looked like with two Mr. Asses?" They dress alike, they look alike, and Austin even has his dad's mannerisms and style of speaking. When Billy Gunn shouts, it sounds like somebody's shooting at you with a shotgun full of rock salt. It's deep and gravelly, but also shrill somehow? It's why Road Dogg did most of the talking. Gotta say, it's pretty weird to team with your son when your gimmicks are that you love asses, wear hot pants, and can't stop pointing at your dicks.
In case that New Age Outlaws comparison made you think I'm not giving the new team a fair shake, Austin tries to pump up the crowd to get excited to hear his dad do his 20-year old catchphrase from a different company, and Billy has to stall for time while he tries to catch his breath, which he lost by walking to the ring.
Their opponents are Shawn Spears and Peter Avalon, who earns points for asking Austin Gunn if he's "Ass Boy." I prefer "Son of Ass," but it's still funny. Spears and Avalon lose, of course, because one of them is Shawn Spears, and the other is Peter Avalon. How did Shawn Spears jump to a different promotion and land in the same spot?
Jokes aside, Austin Gunn's not terrible, but this was what, his 22nd professional match ever? It shows. It's also kind of a bummer that he seems to be about 5-foot-8, which makes him look like his giant dad's 15-year old son instead of his 25-year old son. Although honestly, Billy Gunn looks like everybody's dad when he's in an AEW ring. It's like you're wrestling in the backyard at your friend's house and their dad wanders out like, "I can do a Rocker Dropper!" And he plays along, but he no-sells everything because he's a grown-ass man.
Note: Huge +1 to Leva Bates for carrying out a copy of Headlocked.
That's it for this week's Dark. Not much to see here, but the Nyla Rose vs. Shanna story's moving forward nicely. Hopefully next week we'll get a tribute to Number One Paul Jones, and Bart Gunn will team up with the imaginary son he thinks he has because he still hasn't recovered from getting punched in the side of the head by Butterbean. See you then!