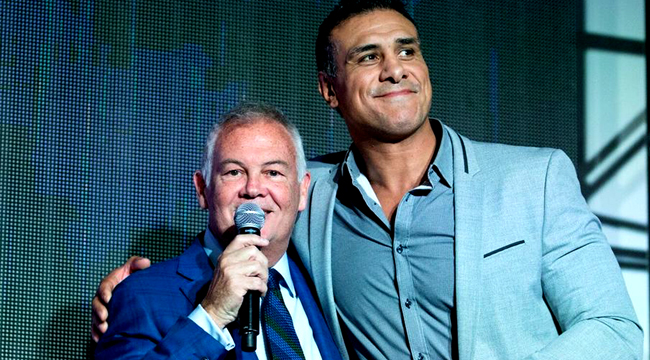 LOS ANGELES — Alberto Del Rio has been involved in MMA since 2001, when, as Dos Caras Jr., he has his first professional mixed martial arts fight. Although his career in the cage is best-known for his 2003 loss to Mirko Cro Cop, he amassed a professional MMA record of 9-5 between 2001 and 2010, in addition to his full time pro wrestling career.
Del Rio has also been involved with MMA promotion Combate Americas since pretty much the formation of the company, first joining as president of the organization in 2016 before transitioning into an official role as Spanish language announcer. He and CEO Campbell McLaren have always served as spokespersons and public faces of the company, and Combate's business model has been paying off thus far.
In advance of Combate Estrellas I on Friday night in Los Angeles, I spoke to Del Rio about what fans can expect from this week's event, and where Combate Americas will be taking their business next.
UPROXX: The last time I talked to you was before Copa Combate in Cancun. How you feel like that event went, and how do you feel the Combate Americas' momentum is heading into this latest event?
Alberto Del Rio: Well, I feel great. Copa Combate was an amazing event. It was what we were wanting for Copa Combate to be, and even better for someone like me, a Mexican like me, because it was a full-blooded Mexican that won, winning at the tournament at the end, and he did it in a spectacular way, it was like the Cinderella story. I remember the guy, Levy Marroquin, coming and raising his hand and saying, "I'll do it." All of us were like, "Okay man, good luck." We were even worried about the guy, 'cause we had the best fighters in the division in that tournament and we weren't sure if the guy was completely ready for the event. But he showed the world that he was ready. It's a guy that is training all the time, is never off-season, he keeps his mind and his heart in MMA, and he ended up winning.
Now we're back in L.A., with a new business partner, Univision, and we're gonna do it in a spectacular way with a great card. Unfortunately we lost one of the fighters [to injury], but that's something we cannot and will never change in MMA. These fighters, they have to train really hard and sometimes they get hurt in the gym, but we have a good replacement to go against John "Sexi Mexi" Castañeda, and I know they're going to give us a hell of a fight.
What do you think are the important next steps for Combate to take to continue to build visibility and stay on the right track?
I think we just need to continue doing what we've been doing so far. We're making the right decisions when it comes to hiring the fighters, or [letting] some fighters go. I think we're going to the right places where Combate needs to be seen first, before taking the step into a different direction or different cities. I know a lot of people who wants to see Combate Americas here in United States, especially in the Latin markets, places like Chicago, New Mexico, and places like that, but we need to focus on the places that have helped Combate Americas to grow, and once we completely own that territory, we will start moving into a different direction.
Do you feel like you'll probably take on a bigger role in Combate going forward?
I've been doing exactly the same since day one. I mean, I help them with some fighters, I help them with some venues, of course I spread the word about the company everywhere, in English and Spanish. I think once I'm done with my pro wrestling career — which will be next year — I'm gonna have more time to completely go and be in the office and help Combate Americas completely, when it comes to hiring fighters and finding places and all the things you gotta do when you work for a corporation like this, inside the office.
So after next year you expect to be full-time in the MMA business on the executive side?
Completely. I've been talking about not doing [any] more pro wrestling shows, sometime next year. I have talked to my family about that decision, and that's something that I really want to do. With this company growing the way he's doin' it, I think it's gonna be the perfect time and the perfect decision for me. So sometime next year I will be completely, 100 percent just dedicated to this company, and my role with them.
Having spoken to Campbell in the past a few times, there's talk of doing an event in Spain. Obviously Combate's focused so much more on every market that's not the United States. Are there any specific countries that you'd like to go into with Combate or have events in?
I hope we can get Combate, we can take Combate, to every single Latin market, Latin country out there. But there's a place I really want to take the company because I know they are in love with MMA and they like the stuff we do, even though we were not on TV in Spain, but Spain has followed Combate Americas pretty much since day one. They love the fact — they embrace the fact that we push Latin talent, or Spanish speakers, fighters, and they want to see us there. With me having so much love for that country, will be fantastic if we go have an event, either in Madrid or Spain, either one, but I think that will something that will help the company to continue growing or to have a lot of people talking about the things we're doing.
But if it doesn't happen in Spain, any other place will be fantastic because it's always great to open new doors, open new markets. We're going to continue going to Mexico because Mexico is our most important business partner. That's where we have a huge, millions and millions of viewers every week, so we need to continue going there to continue owning that market. But it will be fantastic when we open our horizons to go to other places.

Is the intention still to make Copa Combate an annual event? And do you intend to always do it in Cancún, or to move it around, or what's the plan?
We're gonna have it every year, that's for sure. That's something we're gonna continue doing year by year. It's not always gonna be in Cancún. We were talking about maybe having it in Acapulco. What we want to do is do it in places with amazing weather, like paradise cities, like Cancún, like Acapulco, Puerto Vallarta, places like that. I know Acapulco is sound and really big, as the option for Combate to have [events] easier, but that can change in the next weeks.
You've had events in Los Angeles and San Antonio, obviously you want to go where there's a big Latin population. Are there any other host cities in the United States that Combate hasn't been yet that you would like to see them get to?
Yeah, definitely. Places like Chicago, I would love to go to Chicago. It's a beautiful city and they love MMA, there's a big Latin community, a big Mexican community. They already know what Combate is and what we can offer, and I think Chicago will be the perfect place for us to go in the following months.
I know you've said you don't feel like another MMA fight is in the cards for you. Are you still training in MMA?
I do, I'm still doing it. And actually this year I started doing it — I always train, but I started training harder. For the first time I jumped in the ring and I did some sparring, and I feel pretty good, and I ended up doing the same in the jiu-jitsu gym, and the wrestling gym. I remember on of my coaches telling me I was real good shape and I should consider that option. I go from saying yes, to saying no, week by week. I don't know, the thing is if I don't do it this year, I won't do it at all. I've had conversations with Campbell about maybe doing something in San Antonio, in November. Maybe fighting for Combate — not maybe. If I fight, I will try for Combate, nobody else. But again, if I don't do it this year, I won't do it at all.
So you're thinking right now you feel like there's maybe more of a possibility that you might fight again?
I just don't know, you know? I been so busy doing a lot of pro wrestling appearances. I feel really tired from going to Europe, or going down to Mexico, or coming up to the States, and I think, no I don't think, I know you focus on one thing. 'Cause when you're doing so much stuff, sometimes you don't put your 100 percent in everything, and I feel like I've been doing that lately, so if I'm going to be doing this I need to completely stop doing all my pro wrestling appearances and focus in what my MMA combat will be if I end up doing one.

For Combate Estrellas, this Friday's event, what should people look for? What are you most excited about?
To start with, it's going to be the debut of Combate with Univision, and I think that was the perfect, or the right move for us, to be able to go to every single corner, or every single city in this nation, and also in so many places in Latin America. I feel sad, and I'm being honest, that we lost "Lufo" [Marc Gomez], this Spanish fighter, because that was going to be a rematch after Copa Combates. A lotta people think that "Lufo" won that night, I keep saying that Castañeda won that fight, because the people, they were saying that Lufo was pushing forward, but he was being taken down every single time he was doin' it by Castañeda. Yes, he was getting up right away, immediately, Castañeda was not able to hole him down, but it doesn't matter, he was taking down, and that counts as a point.
But you know, these days everyone is an expert and that's why we have everyone bashing John Castañeda and saying he never won that fight, saying that we helped him because he's from the United States, and also people from "Lufo's" corner were saying the same, but we don't do that in Combate. We have no interest in helping anyone just because we like 'em or because for other reason that has nothing to do with the sport. Here, if you're a good fighter, you will get opportunity with us and we will push you to take your career to the top, but it's your responsibility to go and win. And if you don't want any crazy decisions, don't leave it to the judges. Knock the other guy out or submit the other guy, that way you win fair and square, nobody can say anything. I'm a little bit upset that we're not going to have that rematch, but we will have it eventually.
Also, Amanda [Serrano] is making her MMA debut with us, and this is fantastic because as you know, she's the most decorated female boxer in history, so having her with us on Friday is gonna be fantastic. I've seen her training, and man, she's a machine. The way she punches, the way she kicks, she's completely ready. I'm really excited about that one, and I know the L.A. fans are gonna enjoy one of the best Combate Americas ever.
Combate Estrellas I from the Shrine Auditorium in Los Angeles will take place on Friday, April 13. The event will air live on Univision and ESPN Latin America, with a start time of midnight ET (9 p.m. PT). You can find more information on Combate Americas' official website.