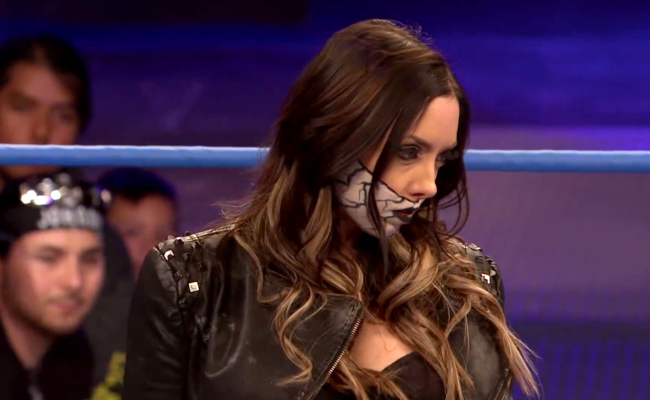 Yesterday, All Elite Wrestling, in both their Road to Double or Nothing series on YouTube and on Twitter, announced that they've signed former Impact Wrestling Knockouts Champion Allie, who was previously known on the indies as Cherry Bomb. Allie's been heavily involved in a major ongoing storyline on Impact Wrestling's weekly TV, so we were all kind of wondering (or at I was; I'm the dedicated Impact watcher around here) how soon she would be leaving that show, or indeed if she'd be leaving at all. After all, both Impact and AEW have talent-sharing deals with multiple companies, including both sharing one with Triple A in Mexico.

Now it seems she's already done with Impact, with her final pre-taped appearance to come on tonight's episode. Here's what PWInsider has to say:
Impact Wrestling informed her in January that they would not be renewing her deal and that she would be finishing up at their last set of TV tapings in Las Vegas. We are told that it was just a decision made to refresh the roster and she was genuinely well liked. There were quite a few people from Impact who praised her work to me today, especially her attitude from the last set of TV tapings as she showed up and worked hard and had a great attitude towards everyone despite being put into a difficult situation where she knew she was done. We are also told that Allie kept the fact she was finishing up to herself and no one on the roster was really aware of it until today's AEW signing announcement.
What's odd about the report is the information that both Allie and Impact have known she was leaving since January, because the storyline about her losing her soul and turning to evil doesn't seem close to any kind of paced-out conclusion. Her only appearance on the show last week was a backstage segment where Rosemary tried to remind Allie of her former self, while Allie insisted that self ("the Bunny") is dead. So what happens tonight, do they finally have a match? And if so, does it end with Allie becoming herself again, only to leave forever? Or does she fail to be redeemed, and still leave forever? Maybe she just dies in kayfabe, and all of this has been for nothing. I'm ready to be disappointed, but I'll definitely be watching.
Also, while this does feel like a loss for Impact, I'm excited to see what Allie does in All Elite Wrestling. She has at times anchored the Knockouts Division, and I think she has the potential to play a similar role in AEW's Women's Division.