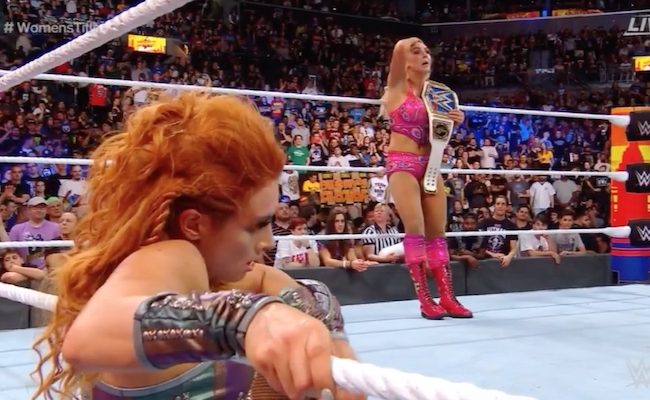 Just when it looked like Becky Lynch might win the SmackDown Women's Championship at SummerSlam in what would have been a satisfying payoff to a rare example of longterm storytelling in the WWE, Charlotte Flair managed to win the belt. Shortly after, Becky responded by turning on her erstwhile best friend.
Becky's had quite a comeback in recent weeks, winning a string of matches after a long period when it seemed like nothing would ever go her way. She came close to winning the Women's Money in the Bank briefcase both times there's been a match for it, only to have her victory stolen each time. When she earned her match with now-former SmackDown Women's Champion Carmella, it seemed at first like her moment had finally come.

But then Charlotte Flair, Becky's closest friend and frequent rival, returned from medical leave and beat Carmella herself to earn her way into the match, making it a Triple Threat. Despite their friendship, Charlotte's presence has always had an unfortunate tendency to make Becky seem like a second banana, so as soon as that happened, many of us lost faith that the Irish Lass Kicker could still win the title.
Sure enough, Charlotte managed to get the victory by hitting Becky with a Natural Selection while Becky had Carmella in the Dis-Arm-Her, which means Charlotte has now tied Trish Stratus with seven women's title wins in WWE.
Becky hugged her friend, backed away, and then beat her down without warning. Whether this means a full heel turn for Becky — who has perhaps been WWE's purest babyface since coming to the main roster in 2015 — remains to be seen. One's thing's for sure, however: A rivalry between the two Horsewomen has officially begun.