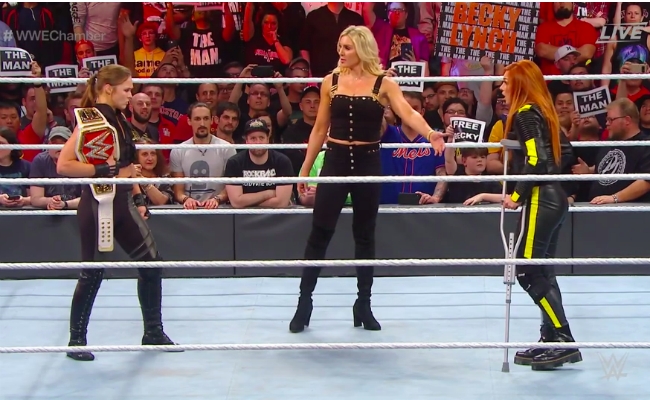 One of WWE's most popular performers wasn't booked on the 2019 Elimination Chamber, but fans could tell that Becky Lynch would almost definitely show up on the PPV. In the only current WWE storyline playing out on both Raw and SmackDown, Lynch was suspended, showed up to work anyway, dealt with frustrating McMahon shenanigans, and was ultimately replaced by her friend-turned-rival Charlotte Flair in the WrestleMania match for the Raw Women's Championship that she had earned by winning the 2019 women's Royal Rumble match.

But that still didn't keep Lynch away from the squared circle. On the Elimination Chamber kickoff show and just before the Raw Women's Championship match, WWE made sure everyone knew that Lynch interfered in a Flair vs. Asuka house show match and reinjured her knee in the process. With Flair set to be watching Ronda Rousey defend her title against Ruby Riott from ringside, it looked like that Lynch could very well show up during that match.
Before the match, Flair was asked her feelings about going to WrestleMania. In her answer, the Queen took verbal shots at Lynch and the audience. This interview ended up being a similar length to the title match, in which Rousey quickly tapped out Riott with an armbar.
Rousey and Flair faced off and talked a little trash to each other after the match. As Flair got in the ring, the crowd started to chant for "Becky!" At this point, Lynch could be seen starting to limp toward the ring on crutches.

Once in the ring, Lynch was revealed to be less injured than she seemed. She tossed Flair one of her crutches, then started beating her with the other as Rousey looked on. It looked like Rousey and Lynch might start crutch-attacking Flair together, but Lynch started assaulting the Raw Women's Champion instead.
The altercation when Lynch left the arena after security arrived, Rousey and Flair left the ring, and Baron Corbin entered for his match with Braun Strowman. Though Lynch still isn't on the WrestleMania card, it looks like the next step in the Rousey-Flair title feud will also have The Man involved.