Previously on NJPW: Taichigun???!!!
You can watch New Japan Pro Wrestling shows on their streaming service, NJPW World, which costs 999 yen (about 9 USD.) You can also watch certain NJPW matches on Saturdays on AXS TV.
You can keep up with With Spandex on Twitter and Facebook, follow our home site Uproxx on Twitter, and even follow me on Twitter @emilyofpratt. Don't forget to share this column on Facebook, Twitter, or whatever social media you use! Also, leave a comment with your thoughts on the show and/or article! All feedback is appreciated and will help us keep up the NJPW coverage.
And now, the third night of World Tag League 2019 on November 18 at Korakuen Hall.
Best: Fun And Game Over
The highest highlights of this show, at least for me, are the two comedy matches, the Bullet Club civil war and Toru Yano and Colt Cabana defeating Minoru Suzuki and Lance Archer. Suzukigun vs. Clowns delivers on the promise of Yano and Cabana as a team and shows that Cabana vs. Suzuki one-on-one would probably be pretty good too. Yano's wrestling genius and Archer's hubris of needing to win every match with the EBD Claw now gets the good guys the win. It also earns Yano a shot at the United States Championship, and if Yano vs. Archer is the U.S. title match at Wrestle Kingdom 14 there's no way this isn't the best Tokyo Dome show ever.
This match is followed by more intra-faction violence, the All Bullet Club match of Kenta and Yujiro Takahashi vs. Bad Luck Fale and Chase Owens. BC vs. BC matches have always been a little different than matches between other faction brothers because Bullet Club has always been the cheatingest faction, and usually the most cartoonishly disorganized. The combination of no sportsmanship, lots of ego, and a lack of communication causes these gremlins to go full gremlin on each other. The serious version of this dynamic showed up in the Kenny vs. Cody and Elite vs. OG storylines last year and Robbie Eagles not being okay with this type of thing is part of what drove him to Chaos, but nobody in this World Tag League match is secretly a good person or starting another wrestling company, probably, so Bullet Club comes out of this one fine.
The match, called by Milano Collection A.T. in full Chase Owens stan gear, starts with the jobber battle of Chase vs. Yujiro, which sets up the type of match this is going to be if everyone entering together didn't tip you off. While Chase and Yujiro attempt to wrestle each other a little, Kenta just orders Owens to lay down for the NEVER Openweight Champion and more shenanigans ensue. People insisting their friends lay down for them has never worked in the history of Bullet Club, but they wouldn't be Bullet Club if the didn't try!
Overall, this is more of a sketch than a match, but in a way that works. It adds some variety to the show and everyone plays their role in a way that fits their characters. The one kind of serious thing that happens, which I appreciated, is how quickly Owens taps to Game Over, so ultimately the champion in the match does come out of it as the most dominant-looking wrestler.
Worst: *Cody Voice* More Like Old Japan Pro Wrestling
Before we get to the fun stuff on this show, there are three matches in a row that are half teams in their late forties or early fifties. The part where there's three of these in a row is the worst thing about them, because these veterans can all absolutely still go in moderation, but a big block of old man wrestling has diminishing returns.
All of these matches have their upsides though. Nagata and Nakanishi vs. Cobb and Nicholls is probably the least interesting just because the youngsters are such a filler team, but it's not like the guys in this match aren't trying. TenCozy vs. HenarACE suffers from being the third in the streak of old man matches, but I think it would have been really well received as an opener, especially considering the nostalgia appeal of Tanahashi fighting the Third Generation guys and the extremely sick Kojima lariat finish.
The actual opener, GBH defeating Hirooki Goto and Karl Fredericks, works well in that slot. Fredericks looks like he's still making the most of every opportunity in NJPW and, like TenCozy, GBH is bringing real tournament energy, not just nostalgia act energy, to World Tag League. Fredericks' single leg Boston Crab looks way more brutal on the 47-year-old Makabe too, if you consider that stretch would immobilize most 47-year-olds for like two days.
This match also injects some extra energy in the show with the post-match angle of Kenta attacking Goto. The #HIRO campaign gets underway later in the show too, so they're working to keep this rivalry in people's minds. Hours before I watched this match I wrote about the Kenta vs. Goto feud, "we probably have a ways to go before anything more dramatic happens with this storyline," so I enjoyed being surprised/wrong about that!
Also: Pre-Tokyo Dome Pee Break
Another Wrestle Kingdom angle is furthered in the third-to-last match on the November 18 card and the only non-League match of the night, Bushi and Tetsuya Naito vs. Gedo and Jay White. This match might as well have had flashing letters appear on the screen that said, "Take a break from World Tag League action with this previous for Wrestle Kingdom! This is not an important match today!" But despite the unforgiving card placement, nobody in this match phones it in at all. Naito and White effectively preview their Wrestle Kingdom bout, keeping the heat of their feud simmering and reminding us where Naito as a character is at right now. Though this is the most skippable match on the card, it isn't wrestled like it.
Best: A Series Of Terrible Events
After the comedy matches, the wrestling highlight of this show is Tomohiro Ishii and Yoshi-Hashi continuing their winning ways over Shingo Takagi and Terrible. There's a good amount of energy and teamwork from both teams, plus some smaller highlight moments like Ishii getting so rabid when he's in the ring with Takagi that he pushes him right into the L.I.J. corner and Ishii holding Terrible draped over the top rope for Yoshi-Hashi's dropkick. Ishii and Yoshi-Hashi continue to look like a team that deserves to be 3-0 (until they lose the following night) and Terrible and Takagi look like a team that deserves to beat at least a couple of people at some point – which they do on the following night's house show.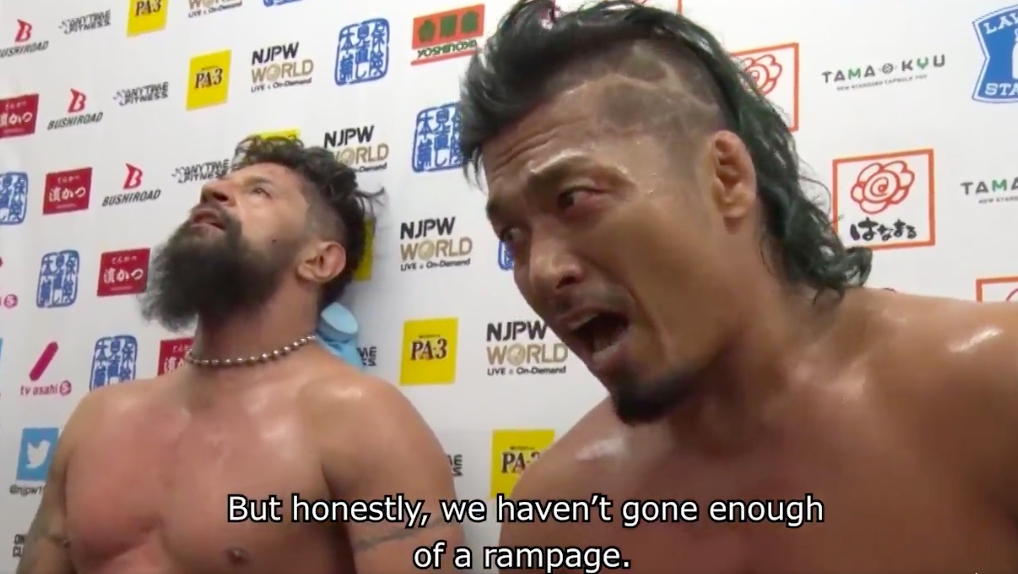 So congratulations to those two on finding the right amount of a rampage to go on – something I think really everyone is trying to figure out in this life.
A Win For Gay Rights?
The show's main event is Zack Sabre Jr. and Taichi vs. Juice Robinson and David Finlay and it's not bad, but it's also not great and there's not much to care about in it. The finish is a Zack-assisted Black Mephisto, aka the Zack Mephisto, which is very close to the name of a sandal.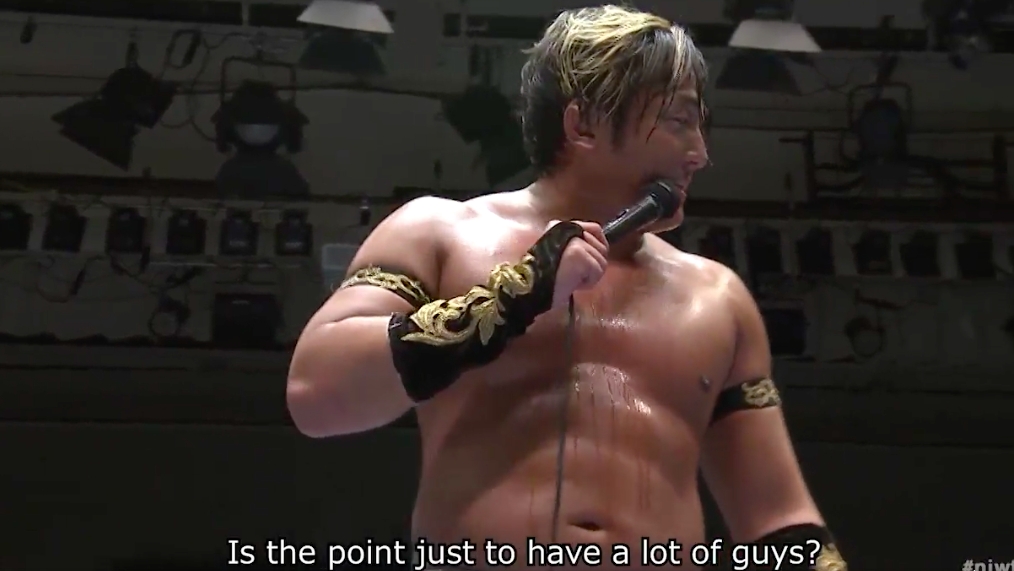 After this match, Taichi buries World Tag League and ZSJ buries Japan for not having legalized gay marriage and another backstage segment shows that friendship and tag team-ship can survive across language barriers because these two clearly don't understand what each other is saying at all.
Going into a streak of VOD shows, Dangerous Tekkers and Ishii and Yoshi-Hashi have the most credible forward momentum in the league, but that could all change by the next broadcast on November 28. Things have already changed a little bit by the time this article is due to be published because there was a show last night that didn't air live, so here are the point totals and potential title shots earned as of November 19:
Points earned:
6 points – 3-1 – FinJuice, Ishii and Yoshi-Hashi, Yano and Cabana
4 points – 2-0 – Evil and Sanada
4 points – 2-1 – Kenta and Yujiro
4 points – 2-2 – Cobb and Nicholls, Dangerous Tekkers, GBH, HenarACE, LA Dojo, TenCozy
2 points – 1-1 – G.o.D.
2 points – 1-2 – Suzuki and Archer
2 points – 1-3 – Doble Rampage, Fale and Owens
0 points – Nagata and Nakanishi​
Title shots earned:
IWGP Heavyweight Tag Team Championship: Yano and Cabana
NEVER Openweight Championship: Hirooki Goto
IWGP United States Championship: Toru Yano