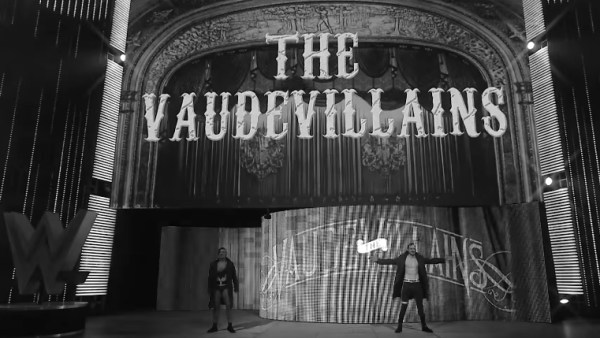 Hey, Blue Team.
This week's Smackdown is a good one. After a long week in Dallas, WWE wraps it up with Smackdown — the best Smackdown in a long time, to be more specific. This week's show is packed full of matches, has some great promos, and was especially well paced.
If you enjoy me watching Smackdown so you don't have to, please consider sharing, liking, and commenting. While you're at it, follow With Spandex on Twitter and like us on Facebook.
And now without further ado, here is The Best and Worst of Smackdown for April 7, 2016.
Best: Acceptance
Smackdown opens with your new WWE World Heavyweight Champion, Roman Reigns, trying out some new catchphrases. And you know what? It's pretty good. On the Road to Wrestlemania, I fought the good fight against the inevitable. But now that Mania is over, I am learning to accept Roman Reigns as my robot overlord. Watching him on Raw and Smackdown this week was like one nail on a chalkboard instead of five.
Roman's music hits to a mixed reaction. He comes down to the ring, gets on the mic, and runs through what happened last Sunday. He says he took back his WWE World Heavyweight Championship and when you have it, everybody wants it, so it's one against all. If they truly stick with the one against all storyline, then I think we could have a good summer with Roman Reigns. But they really have to go full speed ahead with it. Don't book Roman in any tag matches. Have him stop hanging out with Ambrose. Keep him away from the Usos. Roman follows that up by reiterating what he said on Monday night. "I'm not a bad guy, I'm not a good guy, I'm THE guy." But it doesn't have the same effect here as it did on Raw. I really like it as a mission statement, as a declaration of a new direction for Roman. But I absolutely hate it as a catchphrase. I hope this isn't on T-shirts next week. Show and not tell. I want to see Roman act like that every week instead of saying it. I love the idea of a WWE World Heavyweight Champion who fights anyone no matter if they are a face, a heel, or Big Show. It helps keep things fresh when you can't see who the number one contender is going be from a mile away. I don't know about you, but I had no idea AJ Styles was winning that match on Monday, and we need more of that.
Speaking of AJ, it doesn't take Roman long to bring up the next thing he's going to do: beat AJ Styles. This of course summons AJ to appear, due to how space and time works in the WWE Universe. AJ says he has been all over the world, he has beaten the best, and he's held a title. If has to beat "the guy," so be it. Roman tells Styles that he will never beat Roman Reigns and then literally drops the mic before patting AJ on the arm condescendingly. Sure, some of what he said didn't make sense. But the end really sold it for me, and it's so much better than what we've gotten out of Roman in the past month. I never believed Roman as the underdog with the deck stacked against him. But I completely buy him as an overconfident prick who would be condescending to AJ Styles.