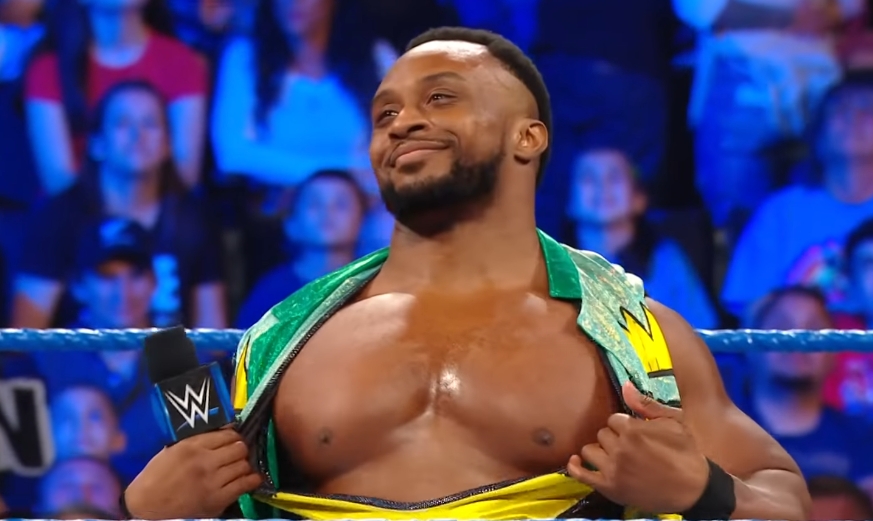 On Sunday at SummerSlam, Kofi Kingston steps into the ring to defend his WWE Championship against the most important challenger of his reign to date: 13-time champion Randy Orton, who notably (and vocally) worked to keep him out of the main event scene back in 2009. 10 years later, they're going head to head for the biggest prize in the company on the second biggest stage of the WWE year.
We had a chance to get a few moments at Friday's SummerSlam media junket with one of Kingston's New Day faction-mates, Big E, and asked him about the championship match and the role Orton has had in the development — or lack thereof — in Kofi's run. Interview via Danielle Matheson, repping us on-site.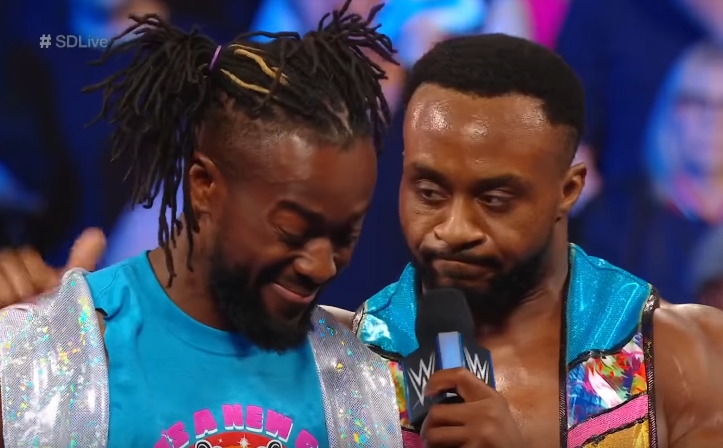 With Spandex: Sunday is such a big day for Kofi, but how are you feeling?
Big E: I'm feeling well. I think one of the … It was recently brought to my attention that there are no tag team matches on this entire card, that every match is 1V1, which is interesting. I'd love to have a tag title match, but I'm not in charge of things, I don't run things. I think I just try to put myself in the best position to do my job, but obviously we're being represented with Kofi and I think that's incredible. The fact that he has a world title match with Randy Orton is incredible. So this … obviously I'd love to be doing something as far as defending the title at SummerSlam, defending the tag titles. But it's incredible to see Kofi have his opportunity, as well.
It's well documented what's been going on between Kofi and Randy Orton, but Orton has also been real shady towards you and Xavier.
Yes.
How do you feel about that?
It's one of those things, that Randy says what he wants to say, and it's fine. We've heard a lot worse being around. We had the one promo with The Rock where he called me, I think, Steve Urkel, and made phallic references to the Unicorn Horn. So it's all fine and well. But I think Randy's a guy who … It's well documented, almost a decade ago, Kofi was on the rise and unfortunately, Randy did things in his way that really stalled Kofi's career. So I'm really just looking forward to the Kofi getting his one-uppance, and being able to turn things around at SummerSlam and have the last laugh.
You guys are so important when it comes to positive representation just in general, let alone in wrestling and WWE, and having Kofi set back 10 years ago, and taking so long to fight not only that setback but the lack of black champions during that time. How important is it to you, personally, not as a wrestler but as a person, to see Kofi finally win against Randy Orton, and prove him wrong?
Yeah, I think as you alluded to, I think representation is important. I think the fact that we have so many fans who look like us, who want to be able to see someone that looks like them on TV, and I was a kid, and I was a fan of Goldberg. And that's definitely … people are going to be fans of who they are, regardless of race or color or gender, but also to be able to have that, to be able to have a Ron Simmons when I was a kid, as the guy, like, "Man, he's incredible." And he's larger than life. And I think representation, being able to see people of all different backgrounds, of all different races, be successful, and to be able to break out of the stereotypes.
We have a history within the company that I think we need to acknowledge at times, where we had black and brown performers, and a foreign performers, as well, who were put into these roles that were very stereotypical. And I'm not trying to cast judgment on anyone who played those roles, but for us to be able to break out of that box of what it means to be a Black wrestler and do something unique, I think it's important to us. So we want to be able to demonstrate that, "Hey, you can be a Black man, you can like anime, you can play video games, you can have all these different interests, and be unique and feel free to express yourself in whatever way feels natural, and still make it to the heights of an industry like pro-wrestling and WWE."
So there's a certain pride in that, in seeing Kofi in his rise, and being able to be proud to be the first African-born champion. For him to be able to go back to Ghana was incredible. To watch that footage of him going back to the place where he was born, where his people hail from, where he himself was actually born, and to go back to Ghana, I think it's really incredible, because you see the effect it has on kids, on people that look like him, and his championship means something. In an industry where we acknowledge that it's about entertainment, I think what he's doing and what we're doing as a collective if feels meaningful.
Love it.
Truth.
If things get out of hand, are you going to help Kofi out?
I feel like he won't need my help. Randy doesn't have any goons. Bryan had his goons, so we were out there when Rowan was around. But I think Kofi will be able to handle himself. And I think that's the beauty of a faction. And you don't really see a lot of Baby Face factions. I think it's unique. In fact, I can't think of many long-lasting Baby Face factions. But I think there's a certain confidence, hopefully we're out there for him, or at least able to dab him up on stage and let him do his thing. But there is a certain beauty in knowing that, "Hey, we've got his back. We're gonna support him emotionally and spiritually and all that jazz, but that he's capable on his own."