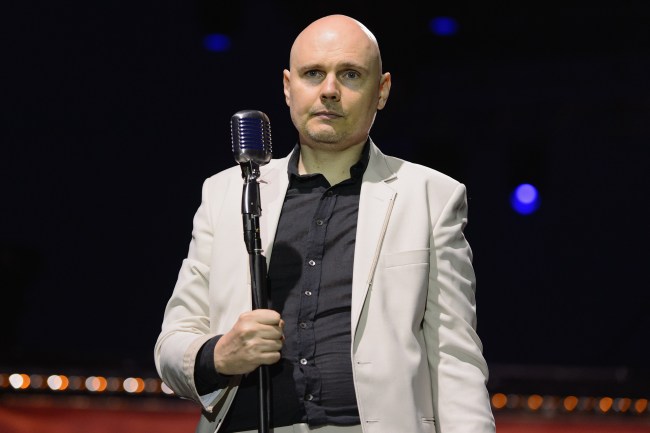 Getting a new boss is kinda the worst, right? They come in, sometimes having no previous experience other than vague "management" skills, full of ideas to instantly change and improve things that have been in place for years. Billy Corgan just wrapped his first set of TV tapings while in charge of Impact Wrestling creative, and he showed his excitement by making sure we knew exactly how bad it was before he got there:
Cynicism and doubt is easy. But there is no arguing that world is prepped for an alternative vision and new stars @IMPACTWRESTLING

— William Corgan (@Billy) May 12, 2015
Interaction with roster and working towards their creative vision was also a big plus. And if success can be judged by improvement, I saw it

— William Corgan (@Billy) May 12, 2015
And to my eyes there are EASILY 10-12 rising stars that could shine any roster in the world. Properly booked, skies the limit for TNA

— William Corgan (@Billy) May 12, 2015
WHICH is why I'm so doggone tired. But it's a good fight trying to get talent over for the fans who want @IMPACTWRESTLING to win

— William Corgan (@Billy) May 12, 2015
He's right that Impact Wrestling has loads of potential, and that the past has… not been great. Acknowledging that is fine, but distilling the deeply-rooted problems that require careful thought and fundamental change down to "welp, it used to be horrible" is… maybe not the tack to take. To be fair, it's hard to address all of these issues in a stream of 140 characters, but being excited for your future while burying your new employer seems like maybe a thing not to do?
Corgan has gone on record saying that he wants to take a more forward-thinking approach to Impact Wrestling storylines, tackling things like gay and transgender issues and a better approach to women's wrestling. Here's a spoiler for the type of innovative, progressive ideas we'll see on TV soon enough via Wrestling Inc:
The Dollhouse comes back and Taryn Terrell calls Kong out for the Lingerie Pillow Fight. The ring has a bed, pillows and other decorations set up. They crack jokes on Kong but out she comes. Taryn berates her for not wearing lingerie. Kong takes out Marti Belle and Jade and brawls with them up the ramp. Taryn tells Hemme to declare her the winner but Brooke Tessmacher comes out and knocks Taryn onto the bed, revealing her lingerie.
Put your think pieces away, everybody! Wrestling is saved!