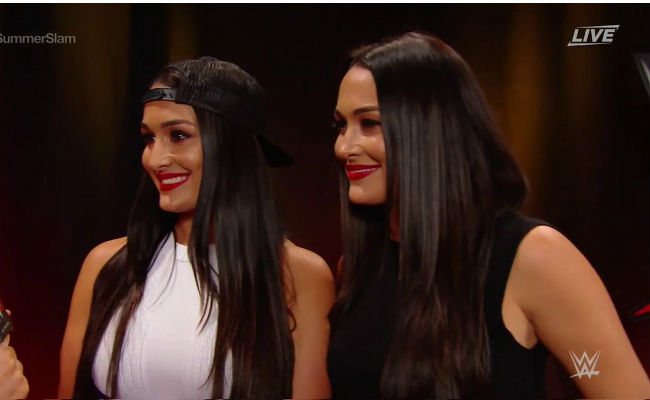 WWE teased some kind of return for the Bella twins all throughout SummerSlam weekend. Both Brie and Nikki Bella were interviewed backstage in Brooklyn, then hopped in the ring to congratulate Ronda Rousey after she topped Alexa Bliss to win the Raw Women's Championship. One day later and the twins were ringside at Raw for a segment that involved Rousey slapping an armbar on Stephanie McMahon.
It seemed like a matter of time before something happened with the Bellas, and during Tuesday night's edition of SmackDown Live, we learned that WWE at least has something in the cards for Brie. The show kicked off with The Miz saying he'd never face off against Daniel Bryan again after beating him at SummerSlam, which drew Bryan out from the back.
Some jawing occurred between the two, and eventually, Maryse (who was in the ring with The Miz) said that Bryan should change his name to Daniel Bella. Brie ran out shortly after, Maryse rolled out of the ring, and Brie and Bryan took out The Miz.

Once the dust settled, Paige made the whole "The Miz retires from facing Daniel Bryan" thing moot by saying we're getting a match pitting The Miz and Maryse against Bryan and Bella at Hell in a Cell.
All eyes are now on whether Nikki Bella will come back and get into the ring, whether it be at Hell In A Cell in September or at Evolution in October. Either way, we now know that half of the Bella twins will return to the squared circle sooner rather than later.