Yesterday, Hulk Hogan (or someone henpeck-typing on his behalf) responded to all of our burning questions via Twitter. Predictably, they were all out of touch, old man answers. So much so, it kinda makes you wonder what — if any — wrestling Hogan has actually been watching in the past few months. Or years. Okay, maybe decades.
The women's division has been a hot topic as of late, and I think we can all agree that it needs significant improvements. Here's Hogan's take on one fellow's suggestion on adding Brooke Hogan to the mix: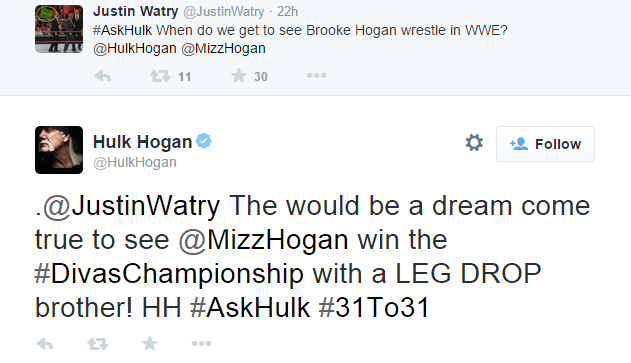 It's okay, Hulkster. She been a disappointment to a lot of us, too.
The answers to almost all of the questions seemed to involve some classic WWE wrestler, be it Rick Rude, Macho Man, or André the Giant. When asked about modern WWE star Dean Ambrose, this was the only answer he could give:
Translation: I have no idea who Dean Ambrose is.
In fact, Hogan's responses are set so far back in the past, this is his prediction for Sting vs. Triple H:
I know these two are supposed to have ~legend solidarity, but doesn't this make anyone even the slightest bit concerned for Hogan? I mean, Ethan Carter III beat Sting handily, and he didn't have the benefit of a sledgehammer or the revisionist history of an entire company behind him. Not to mention that if Impact Wrestling does not exist in the WWE Universe, Sting and Hogan aren't even traditionally the best of buds. Triple H has his own fitness DVD and hands that could crush my skull like a walnut. I mean, just look at this picture of Sting wielding a bat on Triple H:
Come on. The WWE Network is only $9.99, brother. Maybe if you apologize to Triple H for saying he'd lose to a pile of laundry someone found in the White Sox locker room, he'd comp you so you could get caught up before WrestleMania.