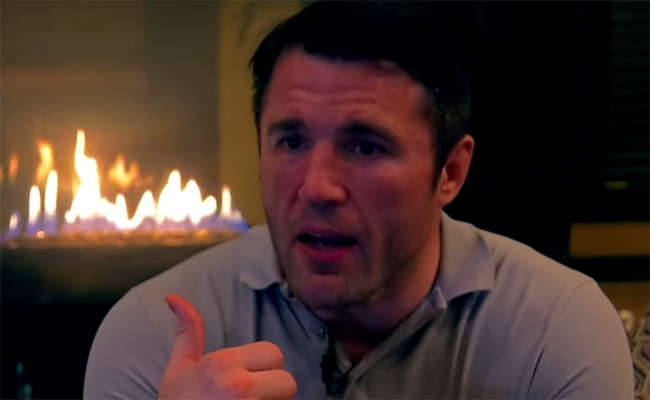 Former UFC middleweight contender and current Bellator heavyweight tournament participant Chael Sonnen has always had an interesting relationship with the truth, something that would probably serve him well in the pro wrestling world. That level of truthiness may or may not be showing again in a recent podcast where he claims WWE offered him a $5 million dollar contract during his trash-talking UFC heyday.
"I was still under contract with the UFC and I never took this to Dana," Sonnen remembered. "I handled it on my own. I told [WWE], 'No' and that was the end of that. I never told Dana White this story, but here's why I didn't tell him. I knew if I called Dana and said, 'I've got a $5 million offer from Vince McMahon,' Dana would have matched it."
As for why he didn't do that?
"There's something really interesting about Dana," Sonnen said. "If you want to play cutthroat business, he will play. But if you want to relax and just let him take care of things, you're going to be a lot better off."

The UFC ended up releasing Chael Sonnen and dropping him as a FOX Sports analyst in 2014 after he tested positive for a cocktail of performance enhancing drugs that included Anastrozole, Clomiphene, HGH, hCG, and EPO. Without knowing exactly when that WWE offer was, it's impossible to know if Chael ended up better off just skating on White's generous nature rather than going for a renegotiation, but the UFC did stand by him through a lot until things got indefensible.
WWE apparently came knocking once again in 2016 with an offer to fight in the 20-man battle royal at WrestleMania 32.
"I kind of pissed those guys off," Sonnen said. "I was asked to be a contestant in a [battle royal] and I wasn't against it, but I just couldn't get the date. I actually worked hard and I tried to clear it. I tried to do it but [WWE] thought I blew them off."
Now Chael is set to enter the second round of the Bellator Heavyweight Tournament, a feat he accomplished by defeating Quinton 'Rampage' Jackson in January. Next he'll face the winner of a Fedor Emelianenko vs. Frank Mir fight going down in April, which is a pretty big task for a puffed-up middleweight. But as we've learned with Chael in the past, his truths often are really stranger than fiction.