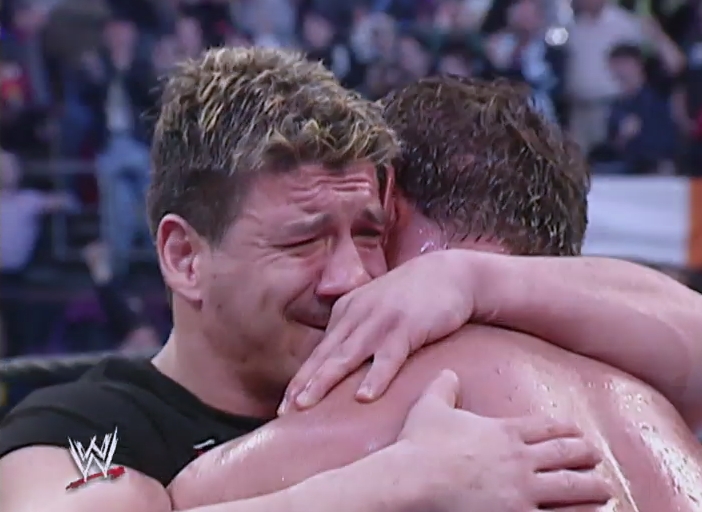 Heading into one of the biggest and most publicized matches of his career against Kenny Omega at January 4th's Wrestle Kingdom 12, Chris Jericho announced via Instagram that he'd be dedicating his IWGP United States Heavyweight Championship bout to his "fallen brothers," Eddie Guerrero and Chris Benoit.
While a dedication to Eddie Guerrero is pretty common, a dedication to Chris Benoit already has the Internet buzzing. Jericho and Benoit were extremely close, and Jericho is almost certainly dedicating the match to the version of the man he worked with and knew and loved, but Benoit also murdered his own wife and strangled their 7-year old child to death in 2007 before hanging himself, so … you know.
Jericho talked to Bill Apter about the murders on Talk Is Jericho back in 2015, mentioning that he considers the situation "shady" due to there being no official explanation for what happened, and has suggested many things could've been to blame, from concussions to rage to "demonic possession."
Regardless of where you stand on the matter, the dedication has been made, and there's a good chance we'll see Three Amigos or maybe a frog splash during Wrestle Kingdom's no disqualification match. Let's leave the flying headbutts at home though, okay?
[h/t to Pro Wrestling Sheet]
Have you listened to this week's McMahonsplaining podcast?
[protected-iframe id="d351ccf10412d0596af3438ef5fda585-60970621-10222937″ info="https://omny.fm/shows/mcmahonsplaining/episode-21-deonna-purrazzo/embed?style=artwork" width="100%" height="180″ frameborder="0″]