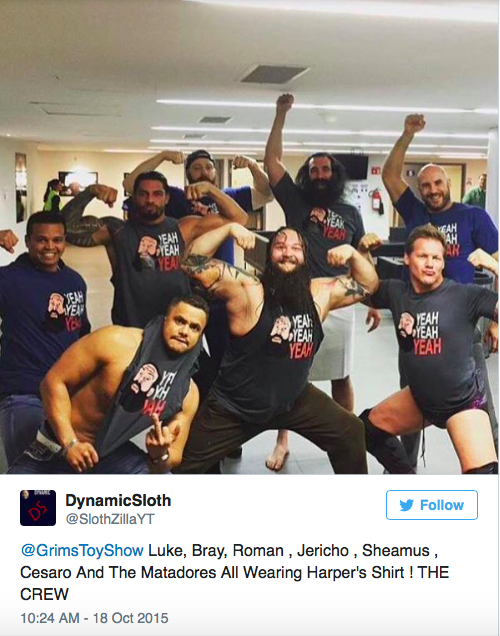 So, yes, we're living in the Kayfabe-breaking Reality era where documentaries are all over the Network showing Bayley and Sasha Banks hugging in between matches. But it appears as though there's a line that's been crossed.
Chris Jericho tweeted this pic from the WWE's Mexico tour showing the backstage #LukeHarper Fan Club. But the pic broke a few cardinal sins that even the Reality Era can't condone: We saw Roman Reigns hanging out with Bray Wyatt even though they're in a sworn blood feud on TV. The pic also showed Los Matadores without their masks on, which is a lesser evil but still something that might rub the muckity mucks the wrong way. There's also Luke Harper himself in a towel, which isn't a sin but worth mentioning.
It didn't take long for Jericho to pull the picture — possibly because there was too much of a backstage reveal going on. And, admittedly, even as a grownup, it's jarring to see Roman Reigns and Bray Wyatt hanging out and being buddies. Sometimes, I don't want to know how the sausage gets made.
There are even rumors that this pic got Harper pulled off TV on RAW and is the explanation for his absence. That's probably not true, but go ahead and get your insider on, playa.