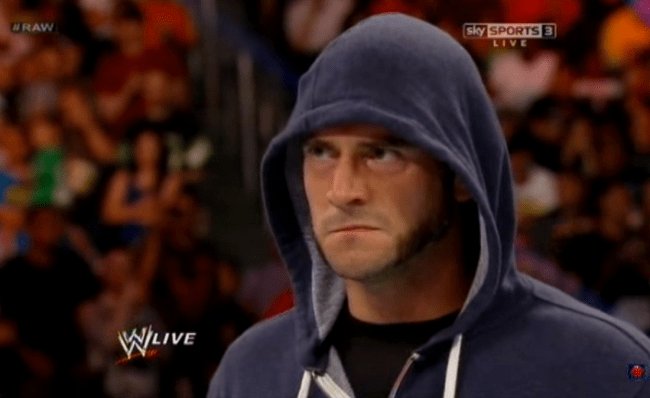 Remember when New York's FarmBorough Country Music Festival "prohibited" WWE Superstar Seth Rollins like he was a laser pointer or a chain wallet? It turns out the hot new thing in music festivals is banning specific pro wrestlers and not explaining it. Well, people who've been pro wrestlers.
If you head over to the FAQ page for this year's Riot Fest in Chicago, they've got a breakdown of what is and isn't allowed. The "not allowed" list features a lot of obvious stuff — pets, megaphones, drug paraphernalia — and one pissed-off native Chicagoan.
Yes, the former WWE Champion who hated people popping in and getting shots they didn't deserve based on their fame and popularity turned MMA fighter getting a shot he doesn't deserve in the UFC because he's famous and popular, CM Punk, is not allowed at this year's Riot Fest. We wonder if this has anything to do with his appearance at last year's festival, where he got up on stage and sung with The Bouncing Souls. That's a pretty sad spot to be on the "not allowed" list, too, between "Justin Bieber" and "crying."
Don't feel bad, Punk. You can always hit up the FarmBorough Country Music Festival.
via RiotFest.org