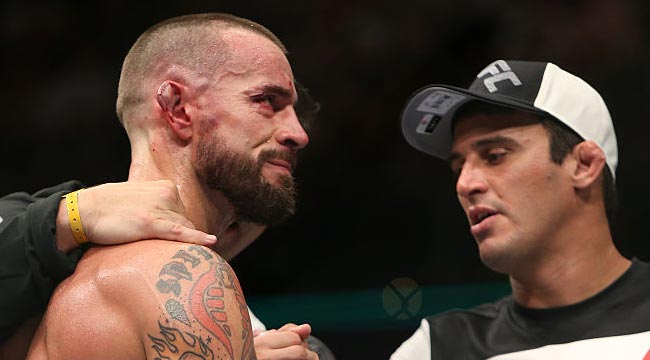 Things are starting to move fast for CM Punk's next UFC fight. A couple of googly eyes and the designation of UFC 225 in Chicago as a rare Windy City PPV, plus the months of reports that Punk has been looking for his next fight has all but guaranteed he'll be on the card. But who would he fight?
Sources close to Uproxx, later confirmed by Ariel Helwani, have placed fighter Mike Jackson as the man standing across from Punk in the United Center on June 9th.
Jackson fought Mickey Gall for the right to face CM Punk two years ago this month and was quickly choked out by the crafty young fighter. Now the UFC is going back to that matchup after months of creative callouts from Jackson (who is an MMA photographer on the side). It'll be a battle of 0-1 and 0-1.
https://www.youtube.com/watch?v=0SK2QiMqll0
There's a reason Punk pinned this tweet.
So until something weird happens, we can pretty much make CM Punk vs. Mike Jackson a lock for UFC 225 this June in Chicago. Will Punk have a better chance in this fight than the Mickey Gall fight? The MMA Math is pretty interesting on this one. We'll find out in a few months.