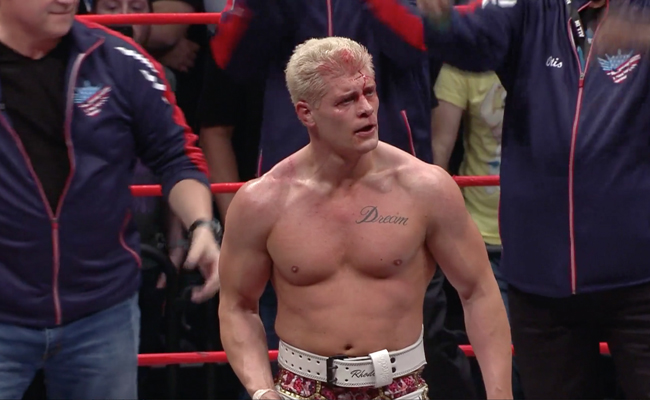 Everyone who watched All In seems to have enjoyed it, particularly the moment when Cody Rhodes won the NWA World Heavyweight Championship, a belt his father held a number of times. But Cody's triumph on the night was much greater than just getting his hands on a once-legendary belt, as he and the Young Bucks put this whole show together, creating a spectacle-filled show in North America outside of the confines of WWE.
Naturally, there's already talk about what comes next, and on a recent episode of The Jim Ross Report, Cody revealed that the biggest thing he's learned about the process of putting a show together is that he doesn't have to do everything himself:
Well, maybe we already started planning. I kept writing these lists. And my dad was a big list guy and I have become a big list guy too. I kept writing these lists of these are the things to do to make sure you're in peak condition, and also make sure you're in peak mental state, and make sure you paid this guy and talked to this guy. I also learned I wanted to do every single thing with this show. I wanted to do payroll; I wanted to know elements of production; I wanted to know how many chairs were in the union catering room. Just, next time, I don't need to know all that stuff. I also learned you are only as good as the team around you and we've discovered some new teammates over the course of the weekend.

The prospect of a second All In (particular the "maybe we already started planning" bit) is certainly exciting. Plus in the meantime, Cody Rhodes is the NWA Heavyweight Champion, which also leads to plenty of exciting possibilities. Thankfully, Cody decided not to fully embrace his father's legacy by having the belt taken away from him after the show ended, so he gets to take it from promotion to promotion, just like in the territory days.
Well, I want to continue the path of the traveling champion. That's kind of what I grew up on, the type of wrestling I like. Even though it's a generation prior to me, when I look back at what Flair was able to do, what Jack Brisco was able to do, their date book alone, and not just, "Oh, I did it," but I did it and it was the best thing of the night. Like, I did it with consistency, but it rubs some people the wrong way and that's fine. I think most people enjoy it.
Cody acknowledged that not all companies like outside belts being brought in, but insists that he'll do it anyway. He specifically mentioned the upcoming New Japan Fighting Spirit Unleashed show in California, adding, "When I go to Long Beach to wrestle Juice Robinson for the IWGP United States Heavyweight Championship, I'll be wearing this too. I'm taking it everywhere I go and I'm excited to do that."
Whether Cody's recent work is what you gravitate towards as a wrestling fan or not, it ought to be exciting for any fan of old school wrestling that the NWA World Championship is the most relevant it's been in decades, and will soon be defended all over the world.