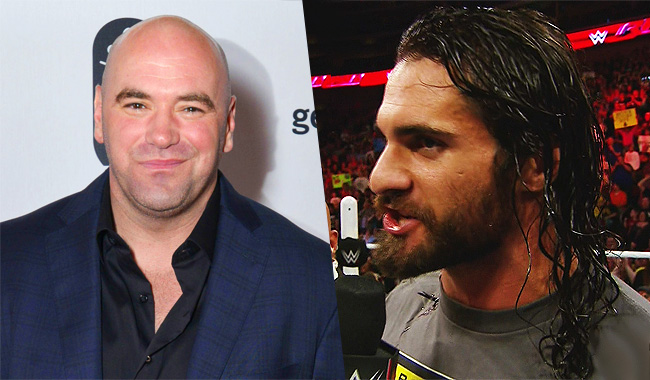 Over the weekend, while promoting UFC 190 on Twitter, Dana White was asked by a fan why UFC pay-per-views are still so expensive as compared to the WWE Network's $9.99 per month price tag. Dana White responded in a very Dana White-like manner.
Calling pro wrestling fake in 2015 really shouldn't be a big stinking deal, but Dana White has a way of making inconsequential things big stinking deals, so over the weekend, pro wrestlers came out of the woodwork to respond to White's comments.
A lot of guys, like Taz and Austin Aries, took the "it's not fake because I've been real injured" angle.
Bully Ray rightfully pointed out the hypocrisy of ragging on a form of entertainment that spawned some of Dana's biggest stars.
Bull Dempsey thinks Dana should come watch him battle with vending machines on NXT for, uh, some reason?
https://twitter.com/BullDempseyWWE/status/627565065848418304
Weirdly, Sheamus decided to compliment the UFC with acronyms.
Mick Foley didn't really care because Ronda Rousey thanking pro wrestler Roddy Piper at UFC 190 was the UFC-WWE connection everybody will actually remember.
"The FAR bigger story in UFC is that Ronda Rousey, in a heartfelt move, dedicated her fight and gave a post-fight shout-out to the late, great Roddy Piper. On a day when Dana White's use of wrestling's F-word offended many wrestlers and fans, the actions of Rousey — the most popular fighter in the world — touched the hearts of fans (both wrestling and MMA) around the world. Dana's dumb words will pass in time. Ronda's touching words will last forever."
Ultimately, though, it was WWE Champion Seth Rollins who delivered the best comeback…
Yup, that's about all that needed to be said. Let Seth handle this stuff from now on, guys. Really, I doubt anybody would have got upset if Dana had just said WWE was fake. No, I think it was his implication that WWE being fake means it's inherently of lesser value than UFC that riled everybody up. That's definitely a debatable point. Personally, I'd rather spend 60 bucks on pro wrestling than UFC, even though it seems some pro wrestlers are a little on the over-sensitive side.