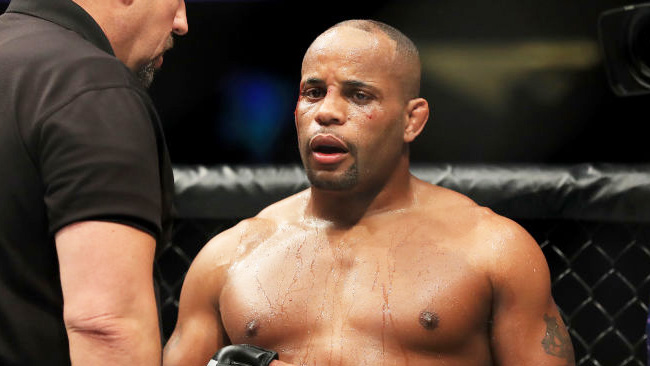 Daniel Cormier is an Olympic wrestler and a UFC champion, and he's got the scars to prove it. The man is old-school. He likes his wrestling with long hammerlocks and potential spinal injuries. He's a man that has no use for Ring of Honor or the Young Bucks and their high-flying wrestling. In other words, Cormier seems to hate spot-fests, or at least that common knock on indie wrestling at the moment, usually led by the Jims Cornette of the world.
Cormier seems to want stiff shots and strong suplexes instead of dropkicks and choreographed routines. Maybe that's because he's lived a life of slamming other men on their heads, or maybe that's because he simply doesn't understand the entertainment value different styles of wrestling bring to the world. Here he is, mocking a sequence recently on Twitter after UFC fighter Chase Sherman tweeted it out:
Cormier followed that up with what he perceives to be "real wrestling" by showing off a couple massive suplexes from Clash of Champions:
That led to Cody Rhodes and other Ring of Honor wrestlers calling him out on his diss, with Rhodes laying it on thick:
Here's DC's response to that, in which he seems to threaten Rhodes?
Considering his love for working stiff, you'd think DC would be throwing out gifs of Mitsuharu Misawa vs. Toshiaki Kawada, but he's not. Instead, he's going to the older, slower-paced years of wrestling that he grew up with. His opinion is just that — an opinion. And it's tinted by nostalgia.
The MMA/Wrestling crossover argument has existed for decades (Sakuraba GOAT), but one has to look no further than Matt Riddle, a successful UFC fighter that turned away from the sport's lack of fighter pay and creative freedom to move to pro wrestling. Riddle is still green, but he's bridged the gap between a spot-heavy style and using his MMA background for transitions that work within a wrestling match. Maybe Cormier should watch a little more Ring of Honor, or someone should remind him of the travesty that was his fight against Anderson Silva before he talks about entertainment value again.
Because frankly, a UFC belt doesn't matter too much these days. Georges St-Pierre just vacated the UFC middleweight title after Michael Bisping defended it against no. 15 Dan Henderson, Conor McGregor hasn't defended either of his titles, Cormier himself has lost to Jon Jones twice, but is champion due to pee in a cup, and the women's featherweight title had to be rebooted to work. It's all entertainment, it's all different, it's all good. Don't throw stones, Daniel.
(Via BloodyElbow)