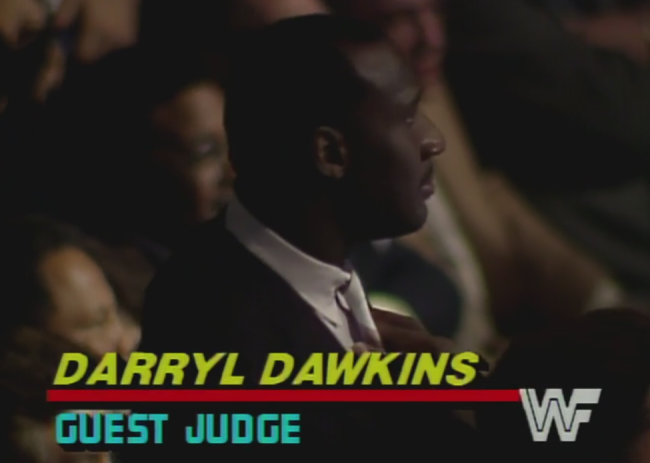 News of the late, great Darryl Dawkins' passing shook up the NBA world on Thursday. While most will remember him for being the first player drafted directly out of high school, or having a dunk so hard it would shatter glass backboards, some may have forgotten about his contribution to pro wrestling.
Back in 1986, the then WWF held its second WrestleMania event. Not yet the polished spectacle it is now, the show emanated from three different cities — Los Angeles, Chicago, and New York — and was jam-packed with as many random celebrities as you could possible think of. No, really. Guests varied from Ray Charles (who opened with America the Beautiful), to Ozzy Osbourne, Elvira, Dick Butkus, Cab Calloway, Ricky Schroder, and Susan Saint James. And that's not even half of them. Ozzy Osbourne was there to co-manage the British Bulldogs with Captain Lou Albano, Susan Saint James joined Vince McMahon on commentary from New York, and Joan Rivers showed up to be the guest announcer for a boxing match between the late "Rowdy" Roddy Piper and Mr. T.
Wrestling is and always has been very, very weird.
By the time WrestleMania 2 happened, the 6-foot-11 New Jersey Nets center already had his last full NBA season behind him. After suffering a back injury from slipping and falling in the bathtub, Dawkins career was unexpectedly winding down. Nonetheless, he was tapped as a guest judge for the Piper-Mr. T bout.
Dawkins was introduced by Rivers as "the man who is best known for slamming and jamming the basketball," all hard Gs like only someone as white as Joan Rivers could manage to pronounce. Joining Dawkins at the judge's table would be the obvious choices of G. Gordon Liddy and Cab Calloway. Guest timekeeper was now-severely forgettable Burger King pitchman Herb:
Hey, he may not be as memorable, but it could be way, way worse. Again.

Dawkins judging duties ended up being pretty light that night. Piper would go on to throw the rules of boxing out the window by bodyslamming Mr. T, ending the match in a disqualification in T's favor.
Dawkins may have been a minor appearance that year (guys, Susan Saint James!!), but, like the rest of the NBA, WWE remembers him fondly, sending their condolences for the basketball legend:
WWE is saddened to learn of the passing of NBA legend Darryl Dawkins. Affectionately known as "Chocolate Thunder," Dawkins was famous for his impactful slam dunks and flashy off-the-court persona throughout his 14-year career. Dawkins played for the Philadelphia 76ers, New Jersey Nets, Detroit Pistons and Utah Jazz. The backboard-breaking dunker also served as a celebrity judge during the boxing match between WWE Hall of Famers Mr. T and "Rowdy" Roddy Piper at WrestleMania 2.

WWE extends our deepest condolences to Dawkins' family and fans.