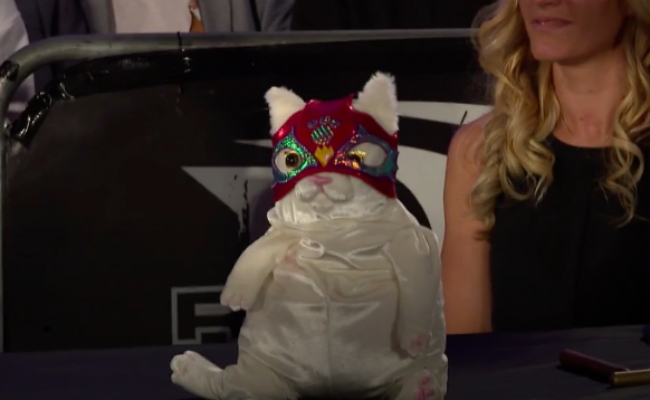 The history of professional wrestling is full of family legacies (the Harts, Von Ericks, Anoa'is, and many more), and it looks like a new one began at the Ring Of Honor/New Japan Pro Wrestling War of the Worlds crossover show in Toronto last night. Hiromu Takahashi brought Daryl Takahashi Jr., son of the legendary Daryl Takahashi, to watch his match from ringside. Ultimately, the kitten ended up getting involved in the action. This could be the start of not only a pro wrestling career, but possibly Hiromu's plan to save the world with cats somehow.
The History Of The Takahashi Wrestling Family
It's been a long, emotional journey to this point for the Takahashis. Daryl, a weighted Mochineko plush doll designed to relieve stress, began accompanying Hiromu to the ring to help him cope with the loss of the IWGP Junior Heavyweight Championship in 2017. Daryl quickly became a fan favorite, but his career was tragically cut short after an attack by Bad Luck Fale so brutal it led fans to call for the Underboss to be charged with murder.

After intensive surgery, however, Daryl was able to accompany Hiromu to the ring later in the 2017 G1 Climax tournament and assure NJPW fans he had recovered. Still, after that type of trauma, his career could never go back to what it has. Though the cat has been off TV, Hiromu has kept fans updated about the big events in Daryl's life via Twitter, namely his marriage to Carol in October 2017 and the birth of Daryl Jr. in December.
When ROH announced that Daryl Takahashi Jr. would make his North American debut on the War of the Worlds tour, it was believed he would just be accompanying Hiromu to the ring. That's how it started out, but this is professional wrestling, and situations tend to escalate quickly.
The Match
Originally, the main event of this show was going to be an eight-man tag team match between members of Los Ingobernables de Japon (Bushi, Hiromu Takahashi, Sanada, and Evil) and the ROH squad of Dalton Castle, Kenny King, Jay Lethal, and Flip Gordon. However, travel issues resulted in both Castle and Gordon missing the show. The match was changed to a six-man tag, with Bushi relegated to accompanying his stablemates to the ring. King and Lethal recruited Colt Cabana, who recently led Team USA to victory at DDT's Japan-US Gay Wrestling Summit!, from commentary to be their partner.

After an opening sequence with Lethal and Sanada, Cabana and Hiromu made their ways in the ring. But Cabana rejected the Ticking Time Bomb as an opponent, saying "I don't want you… I want Daryl!" while pointing to Daryl Jr. at ringside. The youngest Takahashi was incredibly tranquilo, as befits someone raised in L.I.J., about being called out like this when he wasn't even a legal competitor in the match.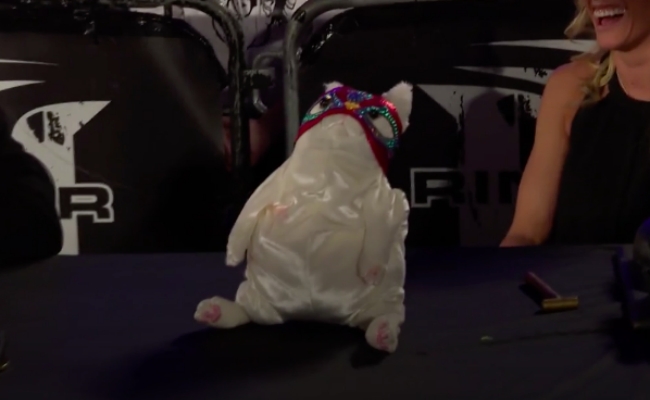 The crowd started chanting for Daryl, and after checking it was okay with him, Hiromu brought him into the ring. Cabana shouted, "I just want the cat! Get out!"
Hiromu reluctantly left Daryl Jr., and cheered him on from the apron. When left to his own devices, Daryl Jr. (who, it should be noted, is only 16 or 17 in cat years, depending on how quickly Mochinekos develop) soon fell on his face.
As Cabana moved towards the prone kitten, Hiromu jumped into the ring and rolled him up. Cabana quickly kicked out, but was enraged and looking for revenge. He picked up Daryl Jr. and threatened to hit him with the Bionic Elbow.
Hiromu begged for Cabana to spare Daryl Jr., and visibly supported the crowd's "You sick f*ck!" chant.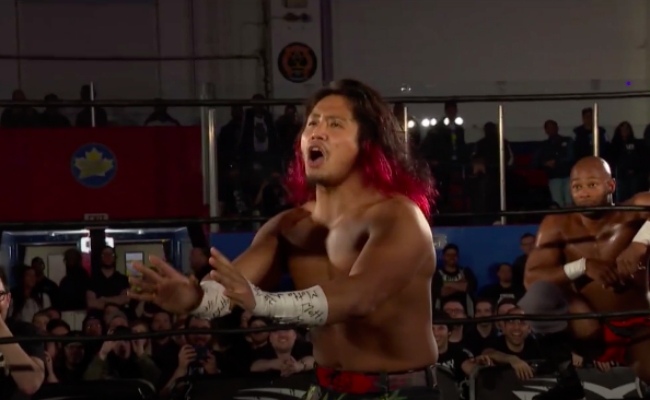 Cabana ended up sparing the elbow and throwing the feline to get a distraction roll up on Hiromu. Hiromu kicked out, but in the commotion, Daryl Jr. was UNMASKED.
As most wrestling fans know, unmasking a luchador is incredibly disrespectful, and being unmasked is a source of significant shame. It's unfortunate that this happened so early in Daryl Jr.'s career, and reprehensible that a world-traveled vet like Cabana would proceed to gloat about it.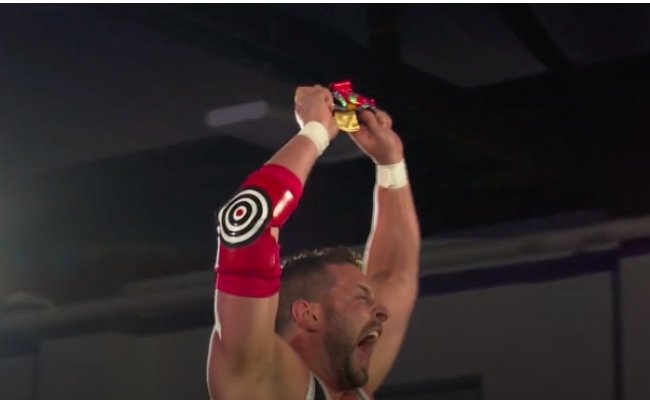 Hiromu returned Daryl Jr. to ringside after this incident. Cabana taunted the kitten after hitting some offense on Hiromu, and Daryl Jr. once again had an impressively tranquilo response.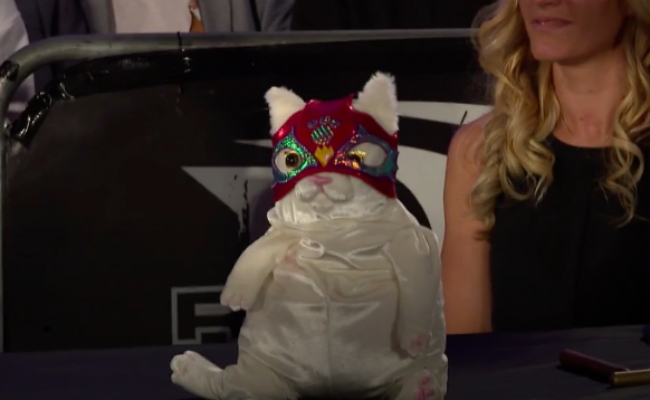 L.I.J. eventually won the match when Evil pinned Cabana after Bushi spit Asian Mist in his face.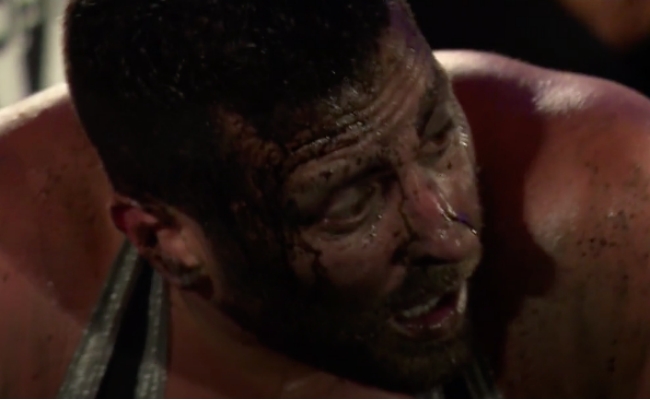 Both Daryl Jr. and Tetsuya Naito, who successfully defended his IWGP Intercontinental Championship against the Beer City Bruiser earlier in the show, joined their stablemates for a post-victory pose.
While it wasn't the most impressive debut I've ever seen and shouldn't be counted in his official stats since he wasn't a legal competitor in the match, Daryl Takahashi Jr. showed courage and fighting spirit worthy of an NJPW ace. I'll certainly be watching his career closely, and will be looking forward to a possible father-avenging dream match when he has more experience.