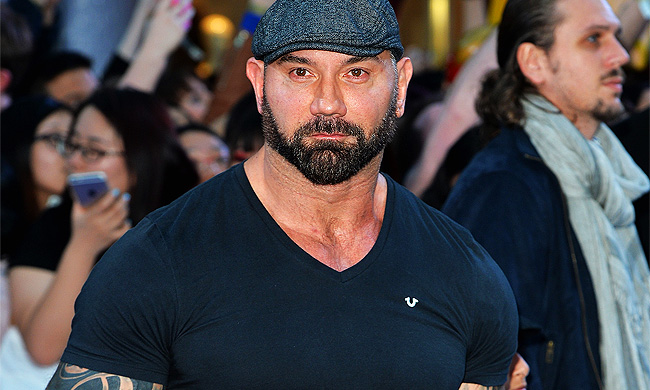 It's odd to say, but I find myself kind of hoping that Batista never comes back to pro wrestling, simply because he's killing it in the world of movies. His role as Drax in Guardians of the Galaxy pretty much guarantees he'll have a huge part in the Marvel Cinematic Universe until the credits roll on Avengers: Infinity War Part II in 2019, but in the meantime, he'll be throwing Daniel Craig into plenty of walls when Spectre comes out this weekend.
But never let it be said that Big Dave is just a two-franchise man. He's got several other projects in the works, one of them being a reboot/sequel in the Kickboxer series. Before you cry heresy, take a second and remind yourself that Jean-Claude Van Damme is involved in this, even if he's just playing the mentor to his character from the original movie. I didn't realize the infinite-universe theory also applies to '80s action flicks, but here we are. Anyway, thanks to martial arts magazine Budomate and the official Twitter account of the film, we now have our first glimpse of Batista as the evil Tong Po.
https://twitter.com/budomate/status/661087162797064192/
Pretty intense, if you ask me. I'm kind of getting a Far Cry 3 vibe, which isn't the worst thing. Oh man, is it too late to get Michael Mando involved in this? "Did I ever tell you the definition of insanity? It's repeatedly kicking a concrete pillar, expecting not to have long-term bone damage in your later years."
[protected-iframe id="e24a38bdeece7b90fd4d3320bf789fb9-60970621-19917426″ info="https://www.youtube.com/embed/2vK1GvBUYec" width="650″ height="400″ frameborder="0″ allowfullscreen=""]
If we ever needed an '80s action renaissance, now seems like just as good a time as any. We'll see what Batista brings to the role when Kickboxer: Vengeance hits theaters next year.
Now Watch: Is The Undertaker The Most Terrifying Wrestler In WWE History?