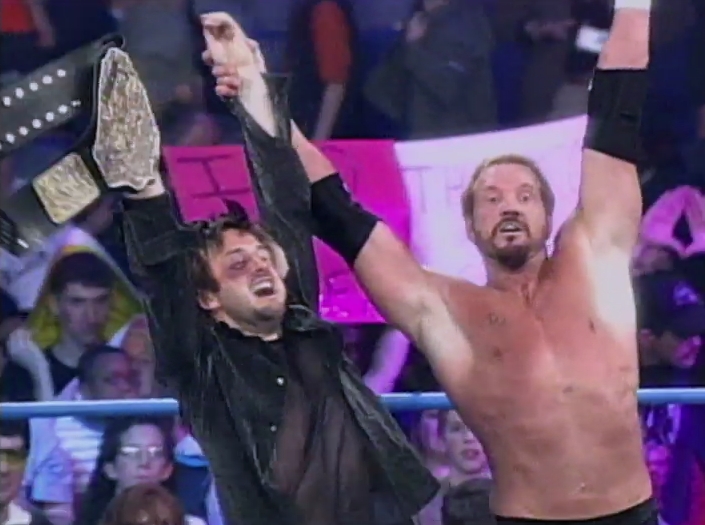 Usually we save the "wrestling you remember happened a really long time ago" updates for things like the anniversary of the formation of the New World Order, but this one's important. And just as insulting to tradition! 18 years ago today, actor David Arquette won the WCW Heavyweight Championship on Thunder in a tag team match by pinning a non-wrestler to promote an Oliver Platt movie about how stupid wrestling fans think wrestling's real.
Way back on April 26, 2000, Jeff Jarrett and Eric Bischoff held Officer Doofy hostage until then-WCW champion Diamond Dallas Page agreed to put the belt on the line in a tag team match, with the man who gets the pinfall becoming champion. The idea is that Jarrett wanted an easy pin on Arquette, but he forgot that Year 2000 WCW was full of dark magicks. Arquette pinned Bischoff in the match, becoming the champion for an astonishing 12 days and only losing it — in a "triple cage" main event at Slamboree, the same match type seen in the climax of Ready to Rumble — when he swerved Page and helped Jarrett win.
Here's an incomplete history in video form, mostly filmed with a toaster, as 2000s pro wrestling was meant to be seen. Congratulations to the David Arquette championship win being old enough to vote!
The Win
Courtney Cox's Cameo
The Successful Title Defense Against Tank Abbott And The Post-Swerve Heel Promo In A Technicolor Fur Coat
The Really Bad Explanation, Because It's Our Fault