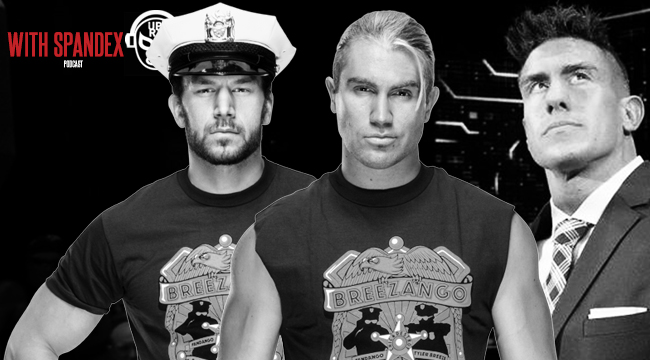 We're back in Los Angeles and in the studio after a busy WrestleMania 34 week, and we've got two treats for you: a (far too short) interview with NXT's latest Superstar EC3, and a thankfully longer talk with then-Smackdown and now Raw favorites Tyler Breeze and Fandnago, aka Breezango. Yes, we dared to combine WWE's funniest people into one podcast. Make sure you listen long enough to hear Breezango's dream WrestleMania entrance, and find out what happens to all the money they get for those fashion citations. And listen for multiple cameos in EC3's interview. THERE IS SO MUCH HAPPENING!
Also, Bill Hanstock is off on a magical soccer trip this week, so co-hosting the podcast with Brandon is comedian, writer and filmmaker Brian James O'Connell. You already know him from this website!
Make sure you send your thoughts and questions to withspandexpodcast@uproxx.com, because we'll read the best emails on the show, and we'll send you fun prizes in the mail.
You can follow McMahonsplaining on Twitter, along with With Spandex proper. Our theme song is by J.W. Friedman, who is great. You can subscribe to the podcast on iTunes, Google Play or you can stream the episode below or download it on Omny Studio.