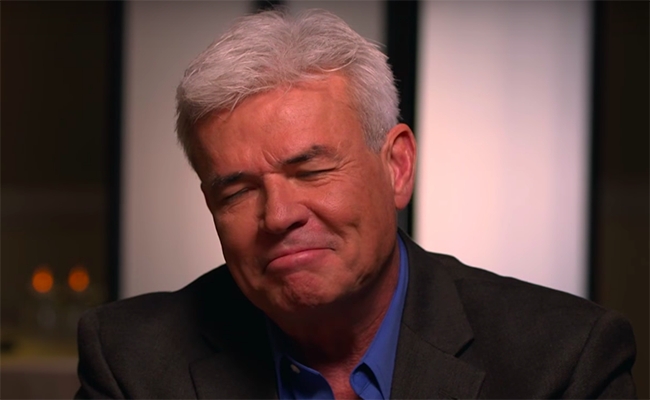 Eric Bischoff is a legendary and important figure in pro wrestling history. The former head of WCW roundly defeated WWE in the rankings for a good stretch of time before a slew of bad decisions resulted in a WWE buyout and ended the Monday Night War forever. But Bischoff very nearly managed to purchase WCW before Vince McMahon did, and there's no telling how different modern wrestling would look if that had happened. Probably the same!
As most wrestling fans know, Bischoff eventually took a job at WWE as an onscreen security figure. And while he's had some strained and weird relationships with the company at times over the years, he'll be coming back on Monday night, as he is scheduled to make an appearance on Raw's 25th anniversary — his first time back on WWE television (WWE Network specials excluded) in the better part of a decade.
Since the Bisch is back, he's of course making the customary media rounds in advance of his appearance. And during one interview, he offered an interesting bit of insight on the time that he challenged Vince McMahon to a legitimate fight on WCW television. As it turns out, he was very much prepared to back up his fighting words.

Bischoff shared his mindset when laying down the challenge when he stopped by Bruce Prichard's show on Busted Open Radio.
"I had never met Vince at the time. To me, he was just a big guy who lifted weights. I've been around guys like that my whole life, so I wasn't intimidated by Vince. When I came out and challenged him, right or wrong, I wrestled in high school, I did kickboxing, I had a black belt, I grew up in Detroit and fought on ESPN kickboxing before it was MMA. The idea of getting into a fight, win or lose, didn't intimidate me. My approach to it was, 'I got enough skill sets. I'm not going to get knocked out in the first 30 seconds. I thought win-lose or draw, if he comes out and beats my ass, it would be great TV.' Winning or losing didn't matter to me. Getting Vince to come to the ring and getting him to do it is what mattered. Hulk Hogan said 'Brother, you don't wanna do that. He's gonna show up and kick your ass'.

"I told our head of security that if anybody from WWF showed up, escort them to the dressing rooms, accommodate them in any way. The only person that I pulled aside in case anything went wrong was Big Show. I said if it gets ugly, do me a favor and jump in there. It has to get that bad though. Otherwise, let it go."
It's almost a shame WWE DIDN'T take him up on his offer to throw hands. That's how all companies should settle their differences, in my opinion. The "Pepsi Challenge" should be just a guy from Pepsi punching Coca-Cola reps.
(Check out our must-listen McMahonsplaining podcast with WWE Superstar Matt Hardy. Subscribe on iTunes or Google.)