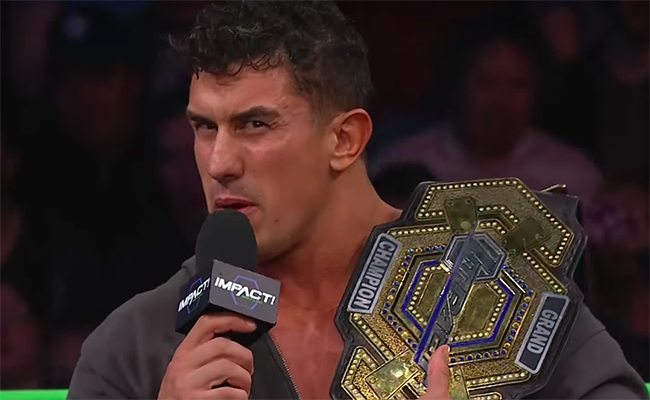 One of the many reasons for Impact Wrestling's stunted growth over the last several years has been its inability to create homegrown stars, and has a longstanding tradition of stocking its upper card with performers who made their names primarily in WWE.
Once upon a time, Impact Wrestling helped to develop the likes of AJ Styles, Samoa Joe, and Christoper Daniels, to name a few, but at some point Impact Wrestling made the conscious decision to focus their product on wrestlers who were past their primes, neglecting the development of young talent in the process.
If you could point towards one Impact Wrestling developmental success story over the last several years, you'd be pointing squarely at Ethan Carter III. EC3 was brought in as the nephew of then-Impact Wrestling owner, Dixie Carter, and EC3 played the role of entitled rich kid beautifully.
EC3 has been in the middle of Impact Wrestling's main event scene ever since his debut with the company, but after multiple ownership and creative changes, it appears as though his time with Impact Wrestling is over.

Impact Wrestling held its January TV tapings last week, and in their annual Feast or Fired match that features four attainable briefcases, three of which include title opportunities while one includes a pink slip, Carter recovered the pink clip briefcase, thus ending his tenure with Impact Wrestling.
Because wrestling is wrestling, and on-screen developments don't necessarily represent what is happening behind the scenes, Pro Wrestling Insider confirmed that EC3 is, indeed, done with the company and that this "fired" angle was a legitimate way to write him off TV for good.
Shortly after EC3's Impact Wrestling departure was made public, former co-worker and wrestling buddy Rockstar Spud tweeted the follow photo with a caption reading "there is an entire universe to conquer."
Spud and EC3 are good friends, and Spud has already signed with WWE, or in this case, the "universe" to which he is referring. With the Royal Rumble coming up on January 28th, it's easy to speculate that EC3 could be a surprise entrant considering his history in WWE's developmental program as Derrick Bateman, but speculation is all we've got on that front so far. One must still assume, for the time being, that the standard 90-day no-compete clause is in full effect, particularly since EC3's Feast or Fired match won't air until February or March.
(So yeah, there's absolutely zero chance he'll pop up at the Rumble. Get ready to set all your friends straight in a couple of weeks.)