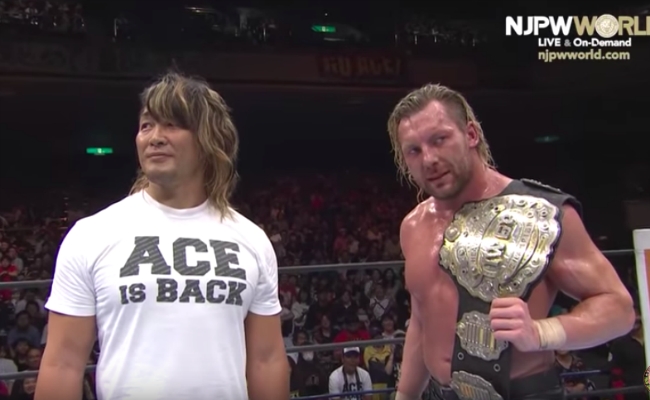 New Japan Pro Wrestling's biggest show of the year, Wrestle Kingdom 13, is almost here. The January 4, 2019, Tokyo Dome show features nine main card matches and one on the pre-show, with varying amounts of backstory and history between the wrestlers involved. NJPW's been covered fairly in-depth this year in the Best and Worst of NJPW column, but this article is a more succinct rundown of who and what will be on this show, plus some notes about what to expect.
But Wait, How Can I Watch Wrestle Kingdom 13?
You can watch this show live at 12 AM Pacific/3 AM Eastern by subscribing to the NJPW World streaming service or by buying it as a PPV on Fite. You can also watch it later on January 4 on AXS TV. Now that's out of the way, let's go over the card!
Pre-show: NEVER Openweight 6-Man Tag Team Championship Number One Contender Gauntlet match
An hour before the main show starts, many really good wrestlers will face off in the annual trios championship cluster-gauntlet, but since the current champs (Taiji Ishimori, Tama Tonga, and Tanga Loa) are all in other title matches on this show, this is to determine who will challenge them on January 5. We've got Ryusuke Taguchi, Toru Yano, and Togi Makabe vs. David Finlay, Jeff Cobb, and Yuji Nagata vs. Hirooki Goto and the Best Friends (Beretta and Chuckie T) vs. Minoru Suzuki and Killer Elite Squad (Lance Archer and Davey Boy Smith Jr.) vs. Hangman Page, Yujiro Takahashi, and Marty Scurll, and your pick for the winners probably depends who in this match you think won't start higher-profile angles at New Year Dash!!.
The teams representing Chaos, Suzukigun, and the Elite have the more obvious teamwork advantages, which usually play a role in deciding these 6-man matches, but Chuck's been periodically going insane and getting himself disqualified, which could hurt their chances. Also, the reunited, former Most Violent Players Yano and Makabe have been getting their groove back in multi-man tag matches lately and have been feuding with Bullet Club, so they're my favorites to win this.
NEVER Openweight Championship match: Kota Ibushi (c) vs. Will Ospreay
The possibility of Ibushi vs. Ospreay was teased for months, and it's finally happening at Wrestle Kingdom. Both innovative, risk-taking high flyers have been babyfaces in this build to this match, with the dynamic of Ospreay proving himself against a more experienced, similar wrestler, possibly before he moves up weight classes to the heavyweight division. Their in-ring interactions haven't been all flips, all the time, so I wouldn't rule out some mat wrestling at the beginning of this, but also I'd expect this to earn a "Please don't die!" chant if it was happening somewhere people did those.
RPW British Heavyweight Championship match: Tomohiro Ishii (c) vs. Zack Sabre Jr.
The third match on the card is Ishii vs. ZSJ for the British Heavyweight Championship. This will be the first time there's been a RevPro title match at Wrestle Kingdom, and they got a new belt for it! (Previously, ROH, All Japan, TNA, and other companies have held this spot.)
Ishii and Sabre have battled multiple times over the past year, including when Ishii beat ZSJ to end his lengthy reign with the British Heavyweight Championship during WrestleMania weekend. But Sabre actually tapped Ishii out in the G1 and solidified his challenge for this title by knocking him out cold in a World Tag League match. Their very different body types usually requires some extra suspension of disbelief in their matches at first, but the performers have the skill and chemistry together to make it work.
IWGP Junior Heavyweight Tag Team Championship match: Yoshinobu Kanemaru and El Desperado (c) vs. Roppongi 3K (Sho and Yoh) vs. Bushi and Shingo Takagi
IWGP Heavyweight Tag Team Championship match: Guerrillas of Destiny (Tama Tonga and Tanga Loa) (c) vs. Evil and Sanada vs. the Young Bucks (Matt Jackson and Nick Jackson)
The second and fourth matches on the card are tag team championship triple threats, and they're the only matches on the card with setups that really don't make sense. Roppongi 3K definitively won the triple threat final to Super Junior Tag League, which was to earn a shot at the Suzukigun champions. But they never defeated Bushi and Shingo Takagi, so now the championship match is an exact rematch of the tournament final for some reason.
G.o.D. vs. LIJ vs. Young Bucks is a completely new matchup, but one that makes even less sense and got a lot of backlash from a lot of fans when it was announced. Evil and Sanada won World Tag League to get a shot at the champs (who they also beat in the finals of WTL), and then the Young Bucks showed up and said they should be added to the title match at Wrestle Kingdom because LIJ has never beaten them. But the Young Bucks vs. Evil and Sanada matches earlier this year were both already for championships, and they're not even challenging these guys for the title, they're challenging the Guerillas, who they have never beaten. Also, why should it matter the WTL winners never beat the Young Bucks since the Bucks weren't even in the tournament?
Basically, storylines for these tag team championship matches at Wrestle Kingdom are the least wins-and-losses-matter things in the King of Sports right now. At least the Young Bucks processed the fan anger connected to their booking and used it as fuel for spectacularly douchey promos at Fan Festa on January 3? This is also probably the Bucks' last match in NJPW, at least for a while, depending on what happens with AEW, so don't expect them to win. However, all the teams in both of these matches have had good matches against each other in various combinations earlier in the year, so I would expect these to be fun to watch.
IWGP United States Championship match: Cody (c) vs. Juice Robinson
Cody defeated Juice Robinson to win the United States Champion at Fighting Spirit Unleashed and hasn't been seen in NJPW since October 8. He also canceled a title defense in ROH due to a way less visible injury than the BROKEN HAND that Robinson won this title and wrestled the G1 with. His character is essentially an entitled trust fund kid to Robinson's hardworking everyman. It's very easy to root for Robinson in this one and he's almost definitely winning because Cody's going to be an Executive Vice President of a different promotion.
IWGP Junior Heavyweight Championship match: Kushida (c) vs. Taiji Ishimori
This is one of the less hyped Wrestle Kingdom 13 matches, but it could easily be one of the show's best. Kushida, now tied for second-most reigns with the Junior Heavyweight Championship, is a standup dude, and Ishimori is an evil Bullet Club gremlin. Kushida beat Ishimori in their one previous match in 2016, but that was before he was reborn as the Bone Soldier and joined the NJPW roster, and Ishimori has managed to pin the Time Splitter multiple times in tag matches recently. Both of them are really good wrestlers and have had some really good matches in the past year.
Kazuchika Okada vs. Jay White
Wow, Gedo is in this recap video a lot! To be fair, he's played a big role in this feud since he betrayed the man he used to manage. Showing up to a match with Okada pretending to have been hit by a car and macing the Rainmaker in the face when he was exposed was some of the funniest shitheeling I've seen in a while.
But manager drama aside, the Jay White vs. Kazuchika Okada rivalry has been going on now for almost a full year. White joined Chaos back in January 2018 and almost immediately started trying to undermine the faction status quo, then tried to take over the stable after he defeated the title-less Okada (with the help of unsportsmanlike tactics) on the opening night of the G1 Climax tournament.
Since White (and Gedo and Jado) joined Bullet Club, this feud has altered the NJPW faction landscape in a way that's sure to continue to play out in 2019. The "Cutthroat Era" iteration of the Bullet Club has been a fun/obnoxious heel force so far, and frustratingly good at winning tag matches. White has been such a garbage person that he prompted the alliance of forever rivals Tanahashi and Okada, which has caused the gradual, growing alliance of Chaos and Taguchi Japan/Team New Japan. Though this year, like most recent years, Wrestle Kingdom feels like a sort of season finale for NJPW, mostly wrapping up major angles, the feud between these two men and their factions really does seem more like the start of a new era.
IWGP Intercontinental Championship match: Chris Jericho (c) vs. Tetsuya Naito
The Jericho vs. Naito feud has been going on since January 5, 2018 (or earlier if you count social media drama), but these men have only officially faced off in the ring once, when Jericho defeated Naito to win the IC title at Dominion. Otherwise, the feud has included a lot of surprise attacks, self-taped promos, Jericho beating Evil, and Naito looking extremely cool and psyching Jericho out at a press conference.
With the elements of Jericho putting down all Japanese people in his promos and bragging about never being beaten by a Japanese wrestler in NJPW, plus Naito kind of treading water all year in service of this big match with an international superstar, it feels like this will be a long-awaited home run for the frontman of Los Ingobernables de Japon. Jericho's most recent match in NJPW was less extreme than his first two, but I'd still expect these guys to go extremely hard and put on a really fun and crazy fight.
LAST MINUTE ADDITION: Right after I wrote this article a No DQ stipulation was added to this match! Holy shit, they're going to kill each other and I'm so excited.
IWGP Heavyweight Championship match: Kenny Omega (c) vs. Hiroshi Tanahashi
If you haven't been watching NJPW shows (especially the ones with Kenny Omega on them) lately, you could easily only be aware of the worked shoot aspect of this feud and/or think Omega is still a babyface. The feud is framed by a debate of wrestling styles and philosophies for taking the company forward, with both wrestlers even getting a recap video that presents their perspective.
But if you've been watching the actual wrestling shows and promos of NJPW lately, Omega is very clearly the bad guy and Tanahashi the good guy. It's not all that complicated. Omega cheated to retain his title (and against his Golden Lover!), has been wrestling like a dickhead more and more in the tag matches building up to this, and has been working a Brock Lesnar-esque schedule. Omega also declared himself a villain at their first press conference and even showed up with his old Cleaner dye job to cut his last promo on Tanahashi last night. Under the guise of changing the company/world for the better, he's returned to full egomaniac anime villain mode.
Meanwhile, the story of Tanahashi searching for his complete comeback has seen him as beloved as ever by the live audiences, even winning the fan-voted Tokyo Sports MVP award. In contrast to Omega's reduced schedule, he's been wrestling even the smaller shows and house shows. He even did some extracurricular heroism by helping out Okada against the Bullet Club threat. (That's how much Jay White sucks!) Tanahashi represents a more old school way of thinking (though he was a company evolver in his younger days) and part of that is valuing the company more than his opponent, arguing that the "IWGP belt isn't an accessory."
So unless NJPW decides to suddenly go full Vince Russo WCW and have Omega stop the match to yell "You see that? Aren't I a more human character?" or something, the arguments about wrestling style and storytelling won't come into play at Wrestle Kingdom. Physically, it's the younger, seemingly unstoppable Omega in the shape of his life against Tanahashi, an amazing wrestler who fought hard to get here and is powered up by the love of the fans but broken down by years of injuries sustained as the face of NJPW. Though obviously a preference for different styles of performing could lead fans to enjoy Tanahashi or Omega's in-ring work over that of the other, both have been part of great matches in 2018.
TL;DR, This one's a good guy challenging a bad guy for the top title and therefore direction of the company in the main event of the biggest show of the year, in the last Wrestle Kingdom of Japan's Heisei era. They're definitely going to go for something epic.
Who are your picks to win at Wrestle Kingdom 13? Is there a match you think will steal the show? Let us know in the comments!