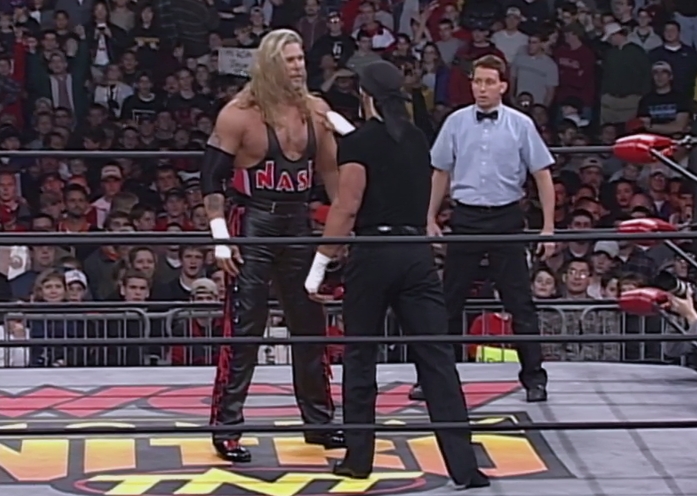 While we bask in the greatness of another New Japan Pro Wrestling Wrestle Kingdom event, let's not forget one of the worst January 4 dome shows of all time: WCW Monday Nitro, live from the Georgia Dome back in 1999. That's the one where Tony Schiavone spoils Mankind's WWF Championship win on Raw, most of the audience switched over to see it, and Kevin Nash lost the WCW World Heavyweight Championship to Hollywood Hogan via one (1) poke to the chest.
If you haven't seen it before, bless your heart, relive the magic here:
To give you the context you need without spending an entire vintage Best and Worst of Nitro column on it — don't worry, we'll get there — the New World Order splintered into the nWo Wolfpac and nWo Hollywood, and had been feuding with each other since April. At Starrcade '98, only eight days earlier, Kevin Nash had pinned Goldberg to become the champion, ending Goldberg's legendary streak. The payoff to all of this was the reveal that whoops, the nWo was actually still together somehow, and the guy who beat the most unstoppable top guy in company history used that momentum to lose to Hulk Hogan via single finger jab. Meanwhile on the other show, a wrestler everyone liked won an exciting championship match that'd been a long time coming, and everyone involved looked better for being a part of it. Why on earth would fans change the channel?
Points of view on the incident differ, but the difference in what Nash thinks and what Hogan thinks is really all you need to read.
"People say that killed WCW. Well, no, it didn't. How else were we going to put together a heel factory for Goldberg to run through? The only thing that had any validity was the NWO, and the plan was to have Goldberg go through everyone. He got pissed off and then he eventually got hurt, but that was the original plan."
"All I know is it was a great way to get a payday without doing anything."
Tony Schiavone:
"Fans, as Hollywood Hogan walks away and you look at this 40,000 plus on hand, if you're even thinking about changing the channel to our competition, fans, do not, because we understand that Mick Foley, who wrestled here one time as Cactus Jack, is going to win their world title. Ha! That's gonna put some butts in the seats, heh"
Have you listened to this week's McMahonsplaining podcast? Subscribe on iTunes!
[protected-iframe id="d351ccf10412d0596af3438ef5fda585-60970621-10222937″ info="https://omny.fm/shows/mcmahonsplaining/episode-21-deonna-purrazzo/embed?style=artwork" width="100%" height="180″ frameborder="0″]