Finn Bálor defeated Seth Rollins to become the first Universal Champion at SummerSlam 2016, and had to vacate the title due to shoot injury. He wrestled the match as his power-boosting Demon King persona, which we haven't seen since that spooky 2017 feud with Bray Wyatt was aborted due to mumps, and he and AJ Styles tore the house with that last minute, extremely sweet match at TLC. He passed on the Demon at Mania, and instead did an LGBTQ-positive, Bálor Club Is For Everyone-themed entrance, and no one could really be mad because he was promoting a cause that he cared about. Still, fans hoped Bálor would bring the extensive face-and-body paint back someday.
Bálor's SummerSlam 2018 match was one of an extended big man vs. little man feud with Constable Baron Corbin, and it wasn't a match or feud that people were super hyped for. But when those smoke machines turned on, people got VERY HYPED IMMEDIATELY because THE DEMON KING WAS BACK.

After the entrance of the night by far, Bálor, fueled by dark supernatural powers and possibly lead poisoning, proceeded to straight up squash Corbin, and quickly pinned him after a Coup de Grace.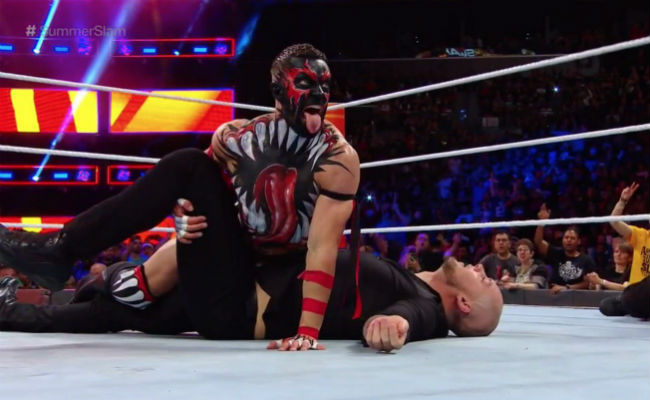 Was this a one-off event of awesomeness, or did it signal a larger revamp of Bálor's character? Hopefully we'll find out tomorrow on Raw!