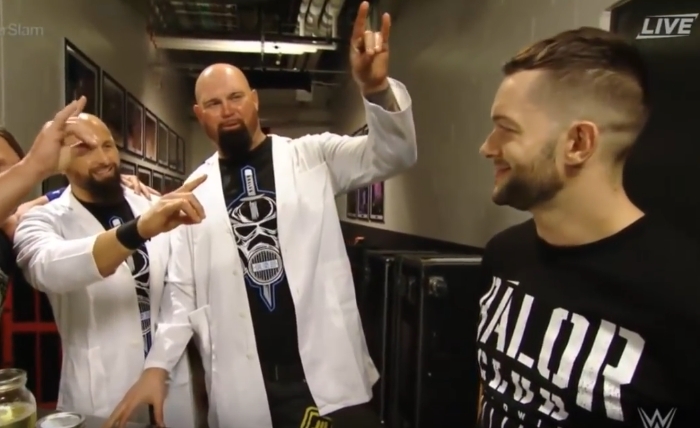 According to a new report from PWInsider, 'Good Brothers' Luke Gallows and Karl Anderson have reportedly been pulled from all upcoming WWE live events, fueling rumors that they'll be leaving the company when their contracts expire later this year. Who would have the balls to do such a thing?
The news of the pull follows previous rumors that Gallows and Anderson "turned down multi-million dollar deals" to extend their WWE contracts, either because of how they feel they've been booked or, per The Wrestling Observer, the "obvious reason," i.e. the existence of All Elite Wrestling. Anderson publicly responded to those rumors at the time in the only way one should, with a 7-year old doing Fortnite dances.
In addition to being near non-factors on television since starting out strong with WWE in 2016, Gallows and Anderson also had their Botchamania knockoff "Botch Club" dropped after one episode. Here's what popular recent opinion-haver Dave Meltzer said about the how and why of their contract situation:
"A lot of people haven't signed, and they're two of them. The story is essentially accurate. They didn't sign. They were offered. As far as what's going to happen with them, there's months until this happens. The Usos are due a lot quicker than they are. There's not a secret there's a spot for tag teams to be pushed to the main event level somewhere else. And Gallows and Anderson are friends with those guys.

"Without the competition, they're probably offered a lot less money too. From the company, they probably wouldn't even be talking to them for the next three or four months or even worry about it. But now, they want everyone signed as quickly as possible. I don't know what the offer was, but I do know from other people that they've done things in a sense of, 'We'll offer you real, big money, but you got to sign it now,' to get people to not turn it down because they just want those — and that insinuation, if you don't take it this minute, you're going to lose this chance for this real, big money, which I don't buy. When push comes to shove, come contract time, they're gonna want them even more."
As always, we recommend reading these rumors and reports with an appropriate level of caution, as all we officially know at this time is that characters who aren't usually used on WWE shows aren't being used on WWE shows. A Bullet Club reunion in AEW certainly makes a lot of sense from a fan perspective, however, and could be a good move for the veterans, especially given concurrent rumors that AJ Styles (currently advertised for the post-WrestleMania tour of Europe) has re-upped with WWE.
We'll keep you updated on any official news that comes out, and whether or not any of Luke Gallows' kids floss on the latest rumors.