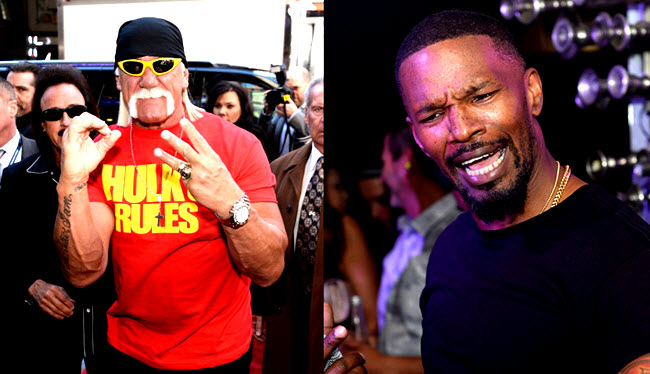 The dumpster fire that is the Hulk Hogan-Gawker sex tape trial has been overtaken by leaked transcripts of Hogan using racial slurs as sexy pillow talk. The first comments released from transcripts currently under seal in a Florida court by the National Enquirer were damaging enough to have Hogan scrubbed from any and all WWE properties, including his hosting gig on Tough Enough, and his recently announced appearance in WWE 2K16.
Radar is now reporting that further comments from disgraced wrestling legend Hulk Hogan have been revealed:
"F*cking n*gger… he had Jamie Foxx coming in on the 22nd track," Hogan brazenly raved, according to a transcript of the expletive-laden conversation provided to Radar.

"I didn't even tell Brooke about it. F*ck her. Brooke and (name withheld by Radar and The ENQUIRER) met in Miami."

"Brooke f*cks up a $10 million deal I had with the Saudis. Brooke says, 'F*ck you, Dad.' She's never said that. She flipped a bird at me."

"I have this huge f*cking house in Miami. My family never comes home. They went to L.A. F*ck 'em."
It seems like the person he's using the slur against is the producer mentioned in the initially released comments, but when you're on tape saying things like, "I am a racist, to a point, f*cking n*ggers," you're probably not following it up with, "Except for Bunz from Booty Call. That guy rules."
It'll be interesting (read: incredibly sad, probably) to see how Hogan responds. He completely missed the point of people trolling him on Twitter so far, so maybe we'll get another stanza from Brooke Hogan's poem in defense of her dad. We've gone ahead and written a haiku on her behalf, mostly because all of the limericks were too dirty, and it's really hard to find something that rhymes with "meat thermos":
Hello, Jamie Foxx
We all adored you in Ray
Not racist, promise!
You're welcome.