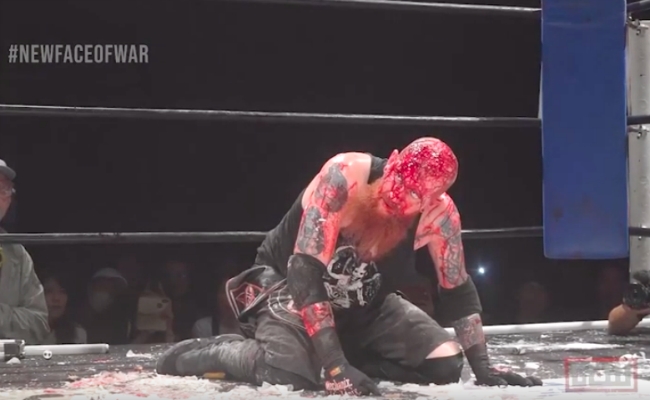 Independent wrestler G-Raver sustained a serious injury in an insane ladder match this weekend and funds are being raised for his surgery.
Raver is unknown to many wrestling fans but has become increasingly popular among those who follow independent wrestling, especially of the deathmatch variety. In a subgenre full of people willing to do insane things to their bodies, Raver has stood out as especially crazy. In this year alone his accomplishments have included a gory match with Jun Kasai during Game Changer Wrestling's tour of Japan and taking a bump off the roof of a house through some doors.

At "2 Cups Stuffed," the GCW/Black Label Pro event on August 30, Raver took another crazy bump that ended up being more literally "death-defying" than planned. He competed in a Doors, Ladder, and Chairs match along with Logan Stunt, Blake Christian, Tony Deppen, Jimmy Lloyd, Matthew Justice, Kobe Durst, Shane Mercer, and Alex Zayne in which the man who successfully climbed a ladder to retrieve a fanny pack would get to select his own match at Joey Janela's Spring Break 4.
Close to the end of the match, G-Raver looked like a possible winner as he climbed towards the fanny pack, only for Jimmy Lloyd to set up another ladder next to his, a ladder with light tubes attached to the top. The two exchanged blows before Lloyd took Raver down from the top of the ladder, sending him smashing through the light tubes in the process. You can see that bump in this fan video:
The commentary team described this as Raver falling "face-first into the glass," but it was soon clear that Raver had sustained some serious damage to one of his arms. He ran to the back bleeding heavily and was immediately rushed to the hospital. As the show continued, Joey Janela, who had accompanied Raver, assured fans "Raver is OK!" via Twitter.
The next day, Raver gave everyone an update on his medical status, tweeting, "I'm still not dead. Had a black out moment heading to the hospital. All stitched up and awake. However, I have damage done to the nerves of my hand. Making it difficult to move or feel a whole lot. Thanks for all the concern guys."
Yesterday, a gofundme was created to help pay for Raver's arm surgery. At the time this article was written, it had raised almost $4,500 of its $7,000 goal. While the future of G-Raver's wrestling career is unclear, it's obvious he means a lot to his fans and coworkers.