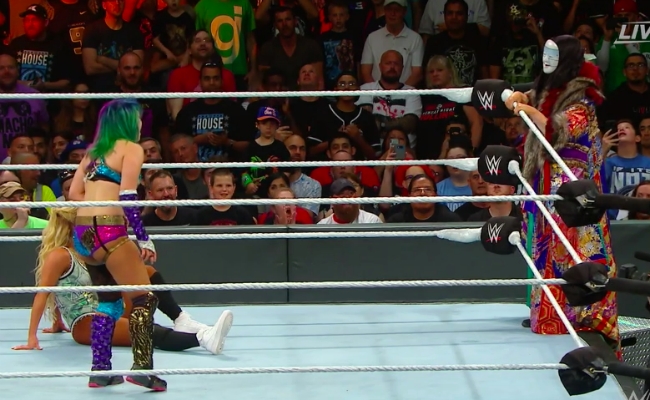 In the days leading up to WWE's Money In The Bank 2018, a rumor started to make its way around the part of the internet that cares about wrestling. The rumor was that the man who was the most controversial part of the women's ladder match at last year's MITB PPV, James Ellsworth, would be returning at this show. Those rumors turned out to be true during the Smackdown Women's Championship Match between Carmella (c) and Asuka.
When it looked like victory was assured for the Empress of Tomorrow, a mysterious figure, wearing Asuka's entrance gear and looking like No Face from Spirited Away in a technicolor dreamcoat, appeared on the ring apron.

Asuka was stricken with fear, because I guess either she thought she had a clone or her mask is a Batman situation where she dresses up as what she fears most. This distraction allowed the Carmella to pin Asuka and retain her championship. The masked being then removed his disguise, and revealed himself to be the chinless wonder himself, James Ellsworth.
One of the Usos was similarly distracted by one of the Bludgeon Brothers' masks during a Smackdown match even though it was the same one the guy wears during his entrances, so I think Being Unreasonably Terrified Of Familiar Masks is the new WWE babyface trope for this year.