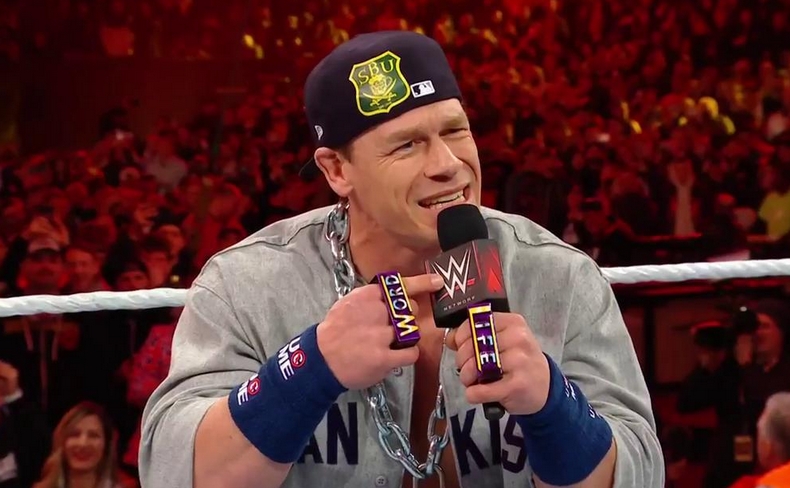 It wouldn't be WrestleMania without a John Cena appearance, would it?
Elias hit the ring for his "headlining musical performance," playing a song alongside pre-taped versions of himself playing the drums and the piano. Yes, this was definitely a set up for a "playing with yourself" joke. Here to make that joke, introduced by a video of Babe Ruth calling his shot, was John Cena … but not the Never Give Up weird hair John Cena, we've been used to. No, this was the original Dr. of Thuganomics John Cena, who took out Elias with a one-sided battle rap before taking him out physically.
He even mentioned that he was about to "turn heel," which is closer to the truth than that time he just wiggled his foot around.
Watch:
Transcribed for your pleasure:
The Doctor of Thuganomics is back
and poor Elias has got the worst deal
Cause you standing the ring with John Cena about to turn heel
Silence your cell phone, hold your applause, shut your mouth, and no string plucks
I feel like I'm watching one of my movies because this whole damn thing sucks
This means walk with Elias? Nah, I'm not really feelin' it
Because without the guitar what it really means is wasted wrestling experiment
I'm a bad man, my style like a pitbull bit you
And you ain't even half a dog, you just a little piece of shitzu
(At this, a picture of a shitzu photoshopped with a guitar and Elias's face on it appeared on the Titantron)
I'd ask you to do a duet, but you'd just put it on the shelf
Because everybody here just saw you only like playin' with yourself
And they call me the Golden Shovel, so I'm about to bury your push
Your face looks like my nuts except you got a hairier bush
It looks like I wore out my welcome. It's about time that I left you.
So there'll be now AA for today, but you are about to get the F.U.
Welcome back, Doctor. I'm just sad they didn't perform 'Old Town Road' together.
(transcription h/t to Emily Pratt)