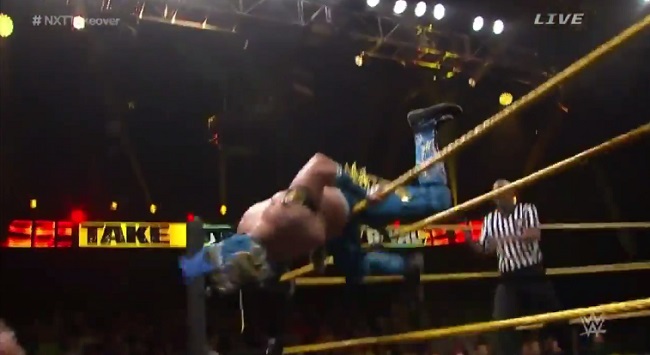 On Monday, Stephanie McMahon announced that Monday Night Raw would have an exclusive cruiserweight division, with rumors of a Cruiserweight Championship on the horizon. On Tuesday, notable WWE cruiserweight Kalisto was drafted to … uh, Smackdown. Kalisto went in the 8th round, one pick ahead of his former Lucha Dragons tag team partner, Sin Cara.
To celebrate this inauspicious start, Kalisto spoke to NXT's Greg Hamilton and made it way more inauspicious. This has got to be one of the worst promos ever. If it's not the worst, it's at least in vicinity of Jumpin' Jeff Farmer.
Kalisto, the last time you went at it alone, you became the United States Champion. What can we expect from you on Smackdown Live?

Well … hey … I'm here, like I said before, I'm here to shock the world. I'm ready, I'm ready to show [pause] lucha art inside and outside the ring. But, first of all, I can't stop thinking about Baron Corey, Baron Corbin, being on Smackdown? Heh, I get to have my revenge. ¿Sabes que? Hey, like I said, I'm here, to stay. Make, make a make a uh uh a good, good lucha, lucha … thing. [running away] GOD DAMN, WOO.
Going forward, the role of Kalisto's voice will be played by Sin Cara.
For a second opinion, let's consult one of Raw's top Superstars …